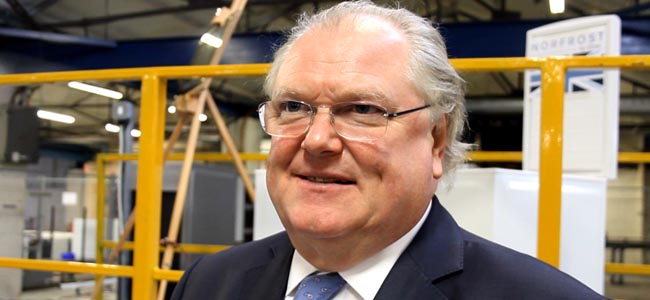 By Martin Walker
The TV star known as the "troubleshooter" has praised Newton Aycliffe manufacturers Ebac for bringing their freezer-making factory to fruition.
As revealed on Aycliffe Today last week, former CBI Director General Lord Digby Jones returned to Aycliffe for the first time since filming BBC2's Digby Jones: The New Troubleshooter, in which he worked with Ebac as they looked to establish the new line.
As well as taking part in a ceremony to launch the factory – the former Radius Systems site on Aycliffe Business Park – and the Norfrost by Ebac range, Lord Jones took part in the special debate in front of an audience of business figures.
Lord Jones told Aycliffe Today: "In this region, we've got to get the gumption, the morale back up, that this is a huge manufacturing area.
"In this community it's everything and it stands for something very important. Permanence… added value… the fact that you can do it.
"It never crossed my mind in Troubleshooter that it wouldn't succeed. I think we can have an argument about how long it took them to get there. But the concept of them ever failing was never on the cards.
"They're everything the North-East is. They drive, kick, push and beat all the obstacles to get there and I'm so proud of them.
"When I walked through the door I felt like I'd come home. It was lovely."
Click here to see our chat with Lord Jones.
'TROUBLESHOOTER' RETURNS TO LAUNCH FREEZERS