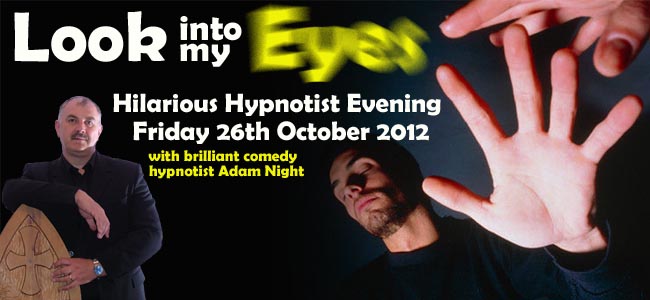 A sold out Sports Club was dazzled as Newton Aycliffe FC's first-ever hypnotist night was a roaring success.
Comedy hypnotist Adam Night put on a memorable 90-minute show that had the 120-audience in stitches as he made a dozen volunteers do a variety of embarrassing acts.
Newton Aycliffe goalkeepers Scott Pocklington and Ryan Farley were among those who were subjected to Night's hypnosis, though the former was unintentionally snapped out of the trance after being knocked into while he was licking an imaginary ice-cream.
But Farley remained in the show until the very end alongside a couple of his college mates, one of which became the main attraction thanks to a comical dance he was made to do.
After the volunteers had been jockeys, formed their own band and 'watched' a blue movie, the show ended with the females strutting their stuff on a catwalk while Farley and Co scored match-winning goals in slow-motion to the theme tune of Match of the Day.
Chairman Gary Farley said: "It was an amazing night. I thoroughly enjoyed it and everyone who attended appeared to have a great time.
"Adam Night was very entertaining and we wouldn't mind having him back at the Sports Club again at some point."
The night raised some much-needed funds for the football club, who are looking to move away from the relegation zone in the Northern League. But the beauty of the night was that it had very little do to with football and brought new people into contact with the club.
Organiser and general manager Dan Lewis said: "It was a brilliant night and we'd like to thank Adam Night for putting on such a great show. The whole audience was in stitches the entire night and it will live long in the memory.
"Events like this are vital for the club to continue to progress on and off the field. We had people attending who have never been to a football club event before and some who don't even like football, but they all had a great time.
"It's important we're interacting with the local community as often as possible and putting events on for everyone, not just football fans.
"We've got a couple more nights in the pipeline for the New Year and full details will be released in the near future."
Adam Night is an expert in hypnosis and mind control and can be contacted via email on [email protected] or by freephone number 0800 355 7 225. To visit his website, go to www.adamnight.co.uk