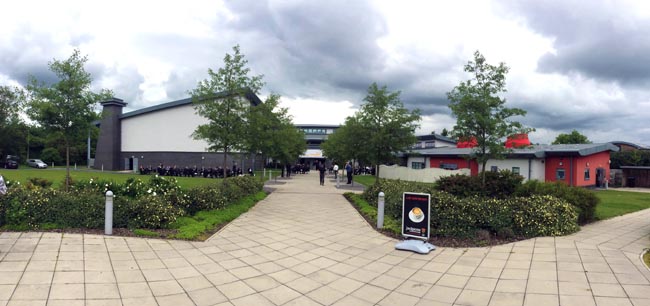 By Martin Walker
Hundreds of delegates from 240 North-East companies descended on Aycliffe Business Park to hear from key figures in the North East Chemical-Processing sector.
Almost 500 delegates attended NEPIC's Annual Meet the Members event – the largest conference the cluster has organised to date, which showcased innovation happening within the region – oat the Xcel Centre.
See our Picture Gallery below
There was 13 key note presentations, delivered by leading business and industry figures, throughout the day and focused on mentoring for growth and supply chain enhancement within the North East Chemical-Processing sector.
Investment project updates were delivered by Lotte Chemical UK – who discussed their current PET plant expansion at Wilton and Sembcorp Utilities UK, who gave an insight into the soon-to-commence Wilton 11 Waste from Energy Plant.
Sirius Minerals provided an update on the eagerly anticipated York Potash Project, the planned Mineral Transport System line to Teesside and subsequent processing plant.
Dermot Roddy, chief technology officer at Five Quarter, spoke of the company's recent underground coal gasification developments and the opportunities it offers to the supply chain in the North-East.
"The opportunity in gas from rocks that Five-Quarter is pursuing provides vital advantaged feedstocks for the North-East's process industries and a major opportunity for their supply base," he said.
"I want people to know that it's coming."
Opportunities arising from technological developments were shared by Applied Graphene Materials and Roy Sandbach of the North-East Local Enterprise partnership.
Jon Mabbitt, CEO at Applied Graphene Materials, discussed the 'wonder material' that has the scientific world excited and how this relativity new Wilton-based business is developing graphene's potential.
Paul Harrison, UK procurement manager at Huntsman Polyurethanes, shared his long experience in this field and offered insights into how to access the procurement departments of multinationals.
This was complemented by a series of presentations how best to access investment opportunities through the correct use of PR, media relations and personal selling techniques.
Almost 100 exhibitor stands filled the floor, consisting mainly of small to medium sized enterprises (SMEs) looking to engage and establish business links with companies in the process chemical sector across North-East England.
NEPIC's SME scheme, Business Acceleration for SMEs (BASME), held one-to-one Mentor Meeting sessions throughout the day where SMEs on the BASME programme had the opportunity to pre-book meetings with representatives from the sectors strongest players.
Meet the Members 2014 was kindly sponsored by Teesside-based Johnson Matthey subsidiary, Tracerco and two of the regions upcoming SME's – Teesprint & Design and Newton Aycliffe-based Anson Corporate Media.
The Event is now in its fourth year and it has grown into the networking conference for chemical-processing business and its suppliers.
NEPIC Business Acceleration Programme manager and former Croda site director, Felix O'Hare, said: "Meet the Members gets stronger every year. It's a real credit to the region to hear about all the fantastic opportunities for investment and growth that are here on our doorstep."