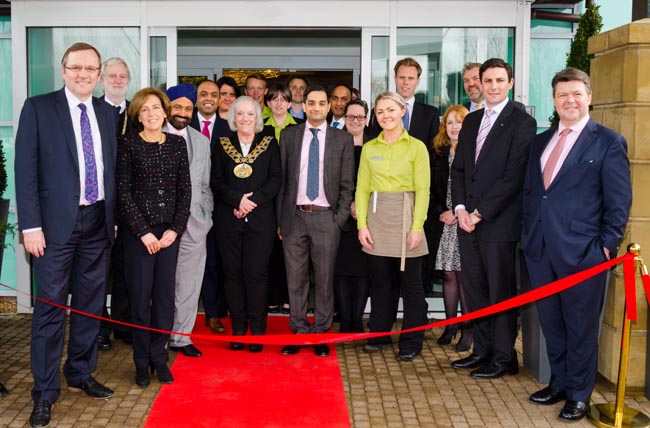 EXCLUSIVE By Martin Walker
The world-renowned group Holiday Inn has opened a brand new hotel near Aycliffe Business Park.
London-based property investment company Dominvs Group purchased the hotel – along with two others – and has refurbished the former Aston with an impressive makeover costing more than £800,000.
Dominvs has partnered with multinational InterContinental Hotel Group (IHG), which owns the Holiday Inn brand, to create an impressive new "open lobby" concept.
The new hotel was officially opened by Sedgefield MP Phil Wilson and IHG's CEO Angela Brav during a ceremony attended by special guests including Aycliffe Mayor Barbara Clare.
SEE OUR PICTURE GALLERY BELOW
IHG, with its European headquarters based in Denham, Buckinghamshire, is the largest hotel company in the world measured by rooms, with 687,000, and has more than 4,600 hotels across more than 100 countries, with an annual revenue of $1.9 billion (US dollars).
"Every hotel is extremely important to us, but this one is especially important, because we're showcasing open lobby, a new design for Holiday Inn," Ms Brav told us, in our special Video Feature.
"It's a social space where people can eat, dine, drink and get to know each other."
Phil Wilson added: "It's great that a company like Holiday Inn has identified Newton Aycliffe as an area to do business, with a significant investment being made in improving its facilities."
The Dominvs Group boasts a £300m portfolio across the commercial, hospitality and residential sectors.
Dominvs purchased the hotel, at Newton Park services just off the A1, along with two others a year ago before renovating them.
The group's Director Preet Ahluwalia told Aycliffe Today: "This was one of the first hotels that we bought and the first time we've interacted with a global brand.
"We're tremendously excited to partner with IHG, especially the Holiday Inn brand, and bring something really significant to the Newton Aycliffe area."
Durham County and Great Aycliffe Town Councillor John Clare also attended the official opening of the new hotel.
"I'm delighted that Holiday Inn has come to Newton Aycliffe," he beamed.
"It's a very important piece in the business jigsaw for Newton Aycliffe. As we try to build our local economy, what we desperately needed was a quality hotel, where businessmen can come and stay and do business with us."
More on this will be in the May-June issue of our B2B magazine, Aycliffe Today Business.
Click here to see our Video Feature
Click on the pictures below to see more…