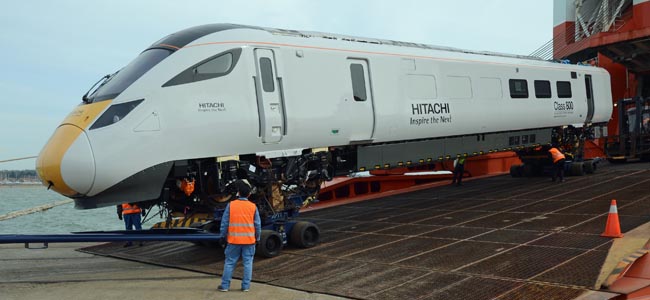 By Martin Walker
Hitachi Rail Europe's first pre-series Class 800 train for the Intercity Express Programme (IEP) arrived in the UK today.
Rail Minister Claire Perry today celebrated the arrival of the carriage at the Port of Southampton.
Train 800-001 is the first five-car pre-series train to be shipped to the UK from Japan, with 110 trains for the £5.7bn Department for Transport scheme being built at the Hitachi Rail Vehicle Manufacturing Facility in Newton Aycliffe.
Previously, Hitachi had welcomed its first training carriage, which arrived on Aycliffe Business Park last month and is currently in-situ at South West Durham Training.
During today's ceremony, attendees were invited quayside to view the unloading of the iconic train carriages from the ship the 'Tamerlane'. The ship is a roll-on, roll-off vessel, and the carriages were hauled off using a tractor.
Speeches were then given by Rail Minister Claire Perry, Keiichi Hayashi, Japanese Ambassador to the UK Government, Andy Barr, Chief Operating Officer, Hitachi Rail Europe and Christopher Connor, Chief Executive Officer, Wallenius Wilhelmsen.
Rail Minister Claire Perry said: "It is hugely exciting to witness the arrival of the first state-of-the-art IEP train on British soil.
"These trains will transform rail travel for passengers travelling between many of the great towns and cities of England, Scotland and Wales; provide a massive jobs boost for Britain and deliver billions of pounds of benefits for our economy.
"We are investing record amounts building a world-class railway that provides more seats, more services and better journeys.
"IEP trains are a crucial part of this and it is fantastic that we are on track for the new fleet to enter service on schedule."
Hitachi COO Andy Barr said: "The arrival of the first train here in the UK is a major achievement for everybody involved in building this train – our colleagues in Japan, our UK suppliers and also the team from Newton Aycliffe, who worked on this train in Japan to hone their train-building skills."
The punctual arrival of this pre-series train marks the completion of yet another successful milestone in the project.
Train 800-001, which left Hitachi Rail's Kasado Works in Kudamatsu City, Japan, on January 7, is evidence of Hitachi's strong commitment to the UK supply chain.
It has been built with the help of almost 30 UK-based suppliers and many more from the rest of Europe.
Representatives of these companies from across the different UK regions attended the event, including DCA Design International (interior design), Manchester-based Lucchini (wheelsets), Lincolnshire-based Emoinox (exhaust systems), Derby-based Dellner (gangways and couplers), Knorr Bremse in Somerset (brake systems) and Worcester-based Arrowvale (driver's safety device).
Hitachi Rail Europe also sees Train 800-001 as a 'technology transfer vehicle,' with staff from the Newton Aycliffe factory in the UK having spent around 3,000 man-hours working alongside the staff in Kasado, building the train.
As the project enters this latest phase, these employees are bringing their knowledge back to the North East to pass on to the UK workforce, allowing them to hone their train-building skills.
This pre-series train is scheduled to begin running tests, as well as serving for training of onboard staff, from April of this year. This will take place on a closed circuit at Old Dalby testing facility and in a Signal Protected Zone (SPZ) on the East Coast Main Line.
The Intercity Express Programme is a £5.7bn Government project to replace the Intercity 125 and Intercity 225 fleets on the East Coast and Great Western Main Lines with new high-speed trains. Hitachi Rail Europe, as part of the Agility Trains consortium, has been contracted to provide the design, build, finance and maintenance of rolling stock, over a 27.5 year period, of 122 trains on the programme.
Trains destined for the Great Western Main Line will be introduced in 2017. The East Coast Main Line will see its new trains go into passenger service in 2018. The final delivery of all trains for the Great Western and East Coast Main Lines will be completed by 2020.
Hitachi's £82m factory in Aycliffe is expected to open in the Autumn.