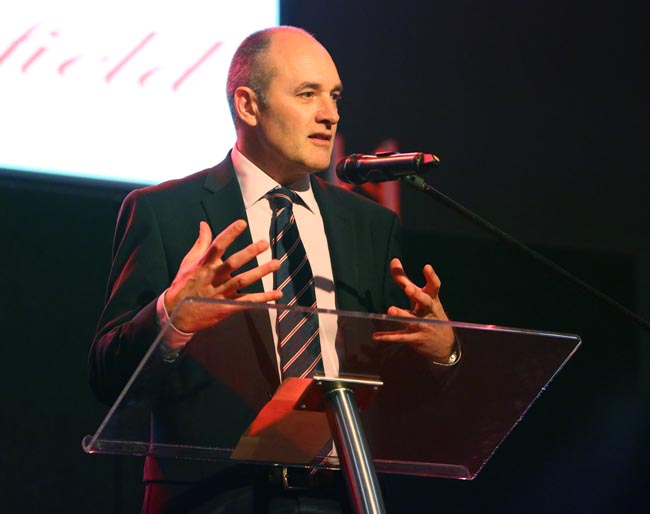 By Martin Walker
Hitachi Rail Europe strengthened its position as a world leader in train building by agreeing to buy an Italian manufacturer in a multi-million pound deal this week.
The Japanese firm – currently building an £82m train-building factory on Aycliffe Business Park which will open later this year – says it has agreed to buy Finmeccanica's struggling AnsaldoBreda plant as well as its entire 40% stake in the Ansaldo signalling unit.
Hitachi says the deal, which is subject to regulatory approval, is worth €773 million (£566m).
Alistair Dormer, Global Chief Executive Officer of Hitachi Rail (pictured above), said: "With the addition of these companies we are in an excellent position to transform Hitachi Rail into one of the strongest global players in the sector.
"This announcement is a further testament to the long-term vision we have for growth of Hitachi.
"By combining forces, we significantly strengthen our market position, aspiring to become a leading global total solution provider to the rail sector."
Whilst significantly expanding its global footprint, the acquisitions will enable Hitachi to strengthen its position in signalling / traffic management systems, expand turnkey operations and enlarge its portfolio with world class products.
The businesses acquired are strategically important for Italy and the combination with Hitachi will also provide a unique opportunity to pursue untapped growth potential in new markets.
Finmeccanica has selected Hitachi as the best industrial partner to ensure a successful long term repositioning of its transportation business, following a competitive process.
The integration into Hitachi will secure the best possible future for the Ansaldo STS and AnsaldoBreda businesses and their employees, marking a fundamental step in executing the Industrial Plan of Finmeccanica, which becomes a pure Aerospace, Defence & Security company.
Ansaldo STS is a leading, world-class Transportation Systems technology company specializing in the design, implementation and management of signalling equipment and control systems for railways and underground railways in the freight and passenger market.
Ansaldo STS also acts as a main contractor and supplier of "turnkey" transportation systems worldwide. Ansaldo STS is headquartered in Genoa and employs about 4,000 people (of which 1,530 in Italy) in more than 30 countries.
AnsaldoBreda has 150 years of experience in the industry and a strong tradition in the field of rail vehicles, with consolidated capabilities in Mass Transit and Very High Speed Trains.
It is headquartered in Naples and has presences in the USA and major projects globally.
The purchase price under the Ansaldo STS Share Purchase Agreement is €9.65 per Ansaldo STS share, resulting in a total consideration of €773m.
The agreed purchase price is subject to a possible pre-closing downward adjustment, in the event that Ansaldo STS approves any distribution of dividends, interim dividends or other distributions.
Following close of the acquisitions, Hitachi will launch a mandatory tender offer on all remaining shares of Ansaldo STS in accordance with Italian law.