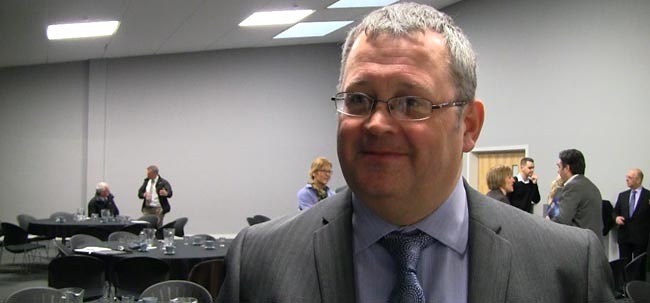 By Martin Walker
Japanese firm Hitachi Rail Europe is busy moving tonnes of earth to rectify a land slope as they prepare to begin construction of the train-building factory on Aycliffe Business Park.
The firm's site manager, Darren Cumner, has told Aycliffe Today that construction of the £82m factory is expected to start in March.
The steel frame – which is being fabricated and erected by Aycliffe company Finley Structures – should be completed by September.
Meanwhile, Hitachi has increased its management team to 10, which is currently based at the Xcel Centre on the park.
That number will be increased to about 40 by the end of the year.
When open for business in the third quarter of 2015, Hitachi will employ about 730 people.
In a Video Interview with Aycliffe Today, Mr Cumner said: "The real work is happening now.
"There's an awful lot of soil being moved around. There's quite a big left-to-right drop on the site, so they're having to tear all that up at the moment.
"From around March through to September people will start to see some significant activity, with the main building clearly visible in the third quarter of this year."
Hitachi's key staff will spent around four months in Japan this year as the transfer of the product makes its way to Newton Aycliffe.
"We have just below a dozen staff at the moment," said Mr Cumner.
"Most of my first level are in place, and they're now actively looking for process engineers, quality engineers, and we should grow to about 40 by the end of this year.
"From May, June time through to September we'll be spending a lot of time in Japan, training on the vehicles, so the technical transfer of the product has now started."
Mr Cumner was talking to Aycliffe Today at the first birthday event of the Aycliffe Business Park Community last week.
Click here to see the interview