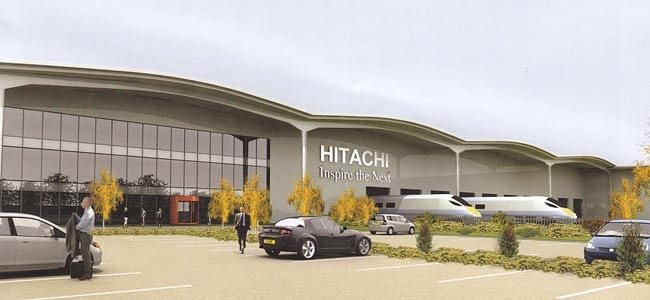 By Martin Walker
Hitachi has announced another major contract win which strengthens its railway-related business.
The firm, which will bring its £4.5bn Intercity Express Programme to Newton Aycliffe within the next two years, released a statement saying Hitachi Rail Europe has received an order for a prototype traffic management system from Network Rail.
Hitachi's train-building facility, which will cost £75m, is expected to bring around 1,000 jobs plus thousands more in the supply chain.
And the company says this latest development "will continue to strengthen its railway-related business on a global scale".
Network Rail will test and evaluate prototypes ordered from Hitachi and two other companies, and based on the outcome, it will make a decision regarding the future roll-out of traffic management across the entire rail network in Great Britain.
Network Rail currently owns and manages railway infrastructure that includes railway stations and tracks throughout Britain, and controls railway operations from more than 800 signalling locations.
It's planning to implement centralised management at 14 operating centres, including new centres scheduled to be built in the near future, and to introduce a new traffic management system as part of efforts to increase efficiency and reduce costs.
This traffic management system, which is expected to be rolled out from 2014, will eventually cover all parts of Britain's rail network.
Network Rail has placed orders for prototype systems with three companies including Hitachi, and will use these prototypes to test and evaluate the systems' performance and reliability.
A statement said: "Hitachi's railway traffic management systems create railway operation plans that can be reconfigured flexibly in keeping with passenger demand, manage and control railway operations based on those plans, and support the rapid recovery of operations in the event of a delay or disruption.
"This is a remarkable achievement for Hitachi rail system business in the UK, following the successful introduction of the Class 395 high speed trains in 2009 and the Intercity Express Programme contract signed in July 2012.
"With this new order for railway system products, Hitachi will continue to strengthen its railway-related business on a global scale."