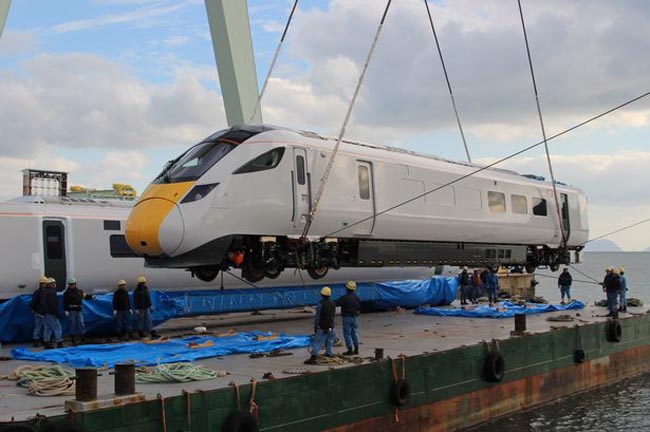 Hitachi has started shipment of the first completed pre-series Class 800 train from Tokyo to Newton Aycliffe.
The train manufacturers unveiled the train that will soon be gracing the East Coast mainline last November at Kasado Works in Kudamatsu City, Yamaguchi Prefecture.
In the first half of 2015 the three trains – each measuring five to 12 cars long – will be shipped to the Hitachi's £82m train-building factory on Aycliffe Business Park for test operations.
In total 122 trains have been ordered, 12 of which are being manufactured in Japan.
The project is being carried out through a Public Private Partnership (PPP) scheme led by the British Department for Transport, with financial support provided by the Japan Bank for International Cooperation (JBIC) and Nippon Export and Investment Insurance (NEXI), among other organisations.
The train being shipped will arrive in the UK in March, after which it will be equipped with various measurement devices for testing.
The train shipped will arrive at Kobe Port on 22nd January, and will be bound for the UK after being loaded on a large ship.
Hitachi is currently in the process of building its Rail Vehicle Manufacturing Facility at Hitachi Rail Europe in Newton Aycliffe, County Durham.
This plant, which represents an investment of around £82m, will be completed in summer 2015, and production of Class 800 series trains is scheduled to begin in 2016.
The recruitment drive for the train plant is well under way and a total of approximately 730 staff members are eventually expected to be hired, including research and development facilities staff.
Alistair Dormer, global chief executive officer of Hitachi Rail, said: "After unveiling this train in November last year, I am immensely proud that we today see the first shipment leave our factory in Kasado.
"Our engineering teams in the UK and Japan have been working exceptionally hard with all stakeholders to ensure that this train will be ready for testing in the UK from April this year onward."