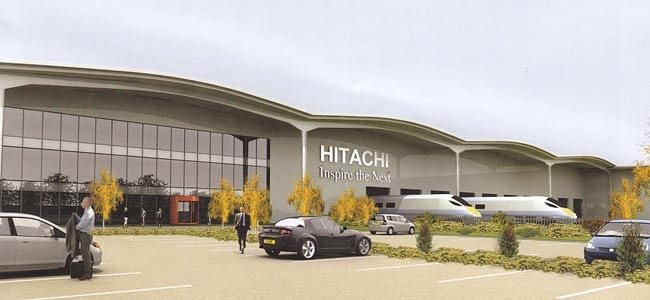 By Martin Walker
Hitachi Rail Europe has announced it's planning to relocate its global headquarters to the UK in what is a fantastic development for Newton Aycliffe.
The manufacturer of the first Japanese bullet train is to move its HQ to London from Tokyo in a move that could create thousands of new jobs.
Hitachi, which is currently building an £82m train-building factory in Aycliffe, aims to grow from a business employing 2,500 people today to 4,000 people over the next two and a half years.
The company's biggest train markets around the world are Japan, Taiwan and the UK and its annual sales are £1.67billion – but the firm plans to increase this to £2.5billion over the next few years.
After the move, which has been welcomed as "an incredible vote of confidence" in Britain, the company is likely to use its new UK base to try to win work in Europe, taking on rivals including Alstom – the French maker of the Eurostar, and the German giant Siemens.
Hitachi's nuclear arm is also planning to build two power stations – in Gloucestershire and on Anglesey – after buying the project from its previous owners for £700million.
The announcement comes months after Hitachi said its new factory in Aycliffe would employ more than 700 when it opens next year.
The site will produce trains to run on the Great Western line and East Coast main line after the group won the £1.2b Intercity Express Programme contract.
"We see it as a major operation in the UK and we want to build in the UK for the rest of Europe," said Hitachi chief Alistair Dormer.
"Both the UK and Japan remain important as markets for Hitachi Rail.
"With our train factory in the North East of England now under construction, we will work to realise our export potential from the UK.
"It would be a great idea to build high-speed trains in the North East."
Business Secretary Vince Cable said: "This demonstrates a huge vote of confidence in Britain, its workers and its rail industry from one of Japan's biggest businesses."
Transport Secretary Patrick McLoughlin added: "This is an incredible vote of confidence in a growing Britain that is exporting more and making great things once again.
"Nothing says that better than the company that built the first bullet train putting its HQ here to sell abroad, alongside a new factory and new jobs in northern England."
Chancellor George Osborne also welcomed the move, saying: "For people like me who have grown up with news of manufacturing jobs leaving Britain, isn't it fantastic that manufacturing jobs are coming back to Britain."