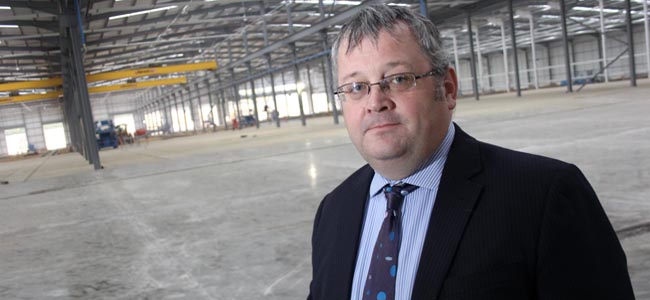 By Martin Walker
Hitachi Rail Europe's historic train-building factory in Newton Aycliffe is on course to be completed by next Autumn.
Site manager Darren Cumner told Aycliffe Today he's "delighted" with the progress Shepherd Construction has made up to now.
Local family construction firm Finley Structures started to fabricate and erect 2,000 tonnes of steel on the huge site in April and a "topping out" ceremony was held at the end of October to celebrate the completion of the building envelope.
Shepherd is now busy fitting out the factory, which will be handed over to Hitachi in less than a year from now.
"I'm on the site every week so perhaps don't recognise the progress that's being made," Mr Cumner told Aycliffe Today.
"It's pretty impressive the progress that Shepherd Construction have made. There's still a lot of work to do, but they have a very good plan and they're a very good company.
"We're delighted with the progress made to date and we're on course for an Autumn handover next year."
Hitachi have so far employed 60 members of staff, who are split between two sites – the Xcel Centre and South West Durham Training (SWDT).
And Mr Cumner says the local community is already starting to feel the benefits of the "Hitachi effect".
He added: "At the moment we have about 60 people and we're already aware of some of the affects we're starting to have in the local shops, local restaurants, sports centres for example, so when we reach the level of 730 it's going to have a huge affect.
"We're always nervous of over exaggerating or over predicting what that's going to be but we know it will have a positive impact."
Go to our Video Vault to see Mr Cumner's interview in full.
AYCLIFFE FACTORY TO HOUSE HITACHI UK DESIGN OFFICE