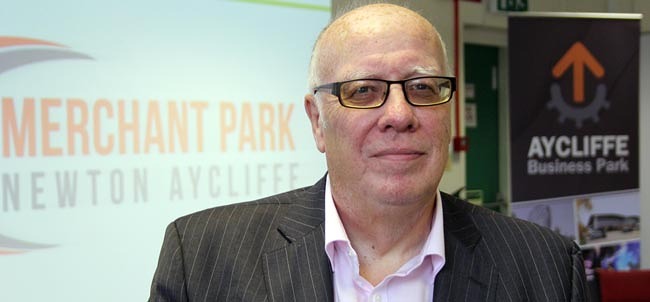 By Martin Walker
The company which brought Hitachi to Newton Aycliffe says the train-building factory is just the beginning of an exciting new era for the town.
Newcastle-based Merchant Place Developments are largely credited for persuading Hitachi Rail Europe to choose Aycliffe Business Park for their new £82m facility.
At a crucial stage, director Geoff Hunton (pictured) even hired a helicopter to give Japanese delegates from the firm a bird's eye view of Aycliffe and its close proximity to the A1, airports and sea ports.
Mr Hunton has written the foreword for the next issue of Aycliffe Today Business – our business magazine for Aycliffe Business Park – which is due out this week.
The popular publication, which has been ramped up with an extra 12 pages to 36, contains a special feature with Aycliffe steel fabrication firm Finley Structures, who've won a 2,000-tonne contract to construct Hitachi's factory.
Mr Hunton writes: "For many years now, there has been a lot of talk, a tremendous amount of planning and millions of pounds of money spent just to bring the Hitachi Rail Project to fruition.
"Too many people have played their part for me to be able to list here, unfortunately, but we can all be extremely proud that the rebirth of North-East train-building is happening right here in Newton Aycliffe."
Hitachi's factory will only make up a third of Merchant Park – the land owned by Merchant Place – and Mr Hunton says planning permission is already in place fur further developments.
He writes: "There are 35 acres (14 hectares) of development plots still remaining on Merchant Park, with outline permission already in place to provide up to 900,000 sq. ft. (83,000 sq m) of new buildings.
"Merchant Place Developments has an excellent track record for delivery of industrial and commercial property for occupiers in the North-East and throughout the UK.
"So, clearly, the Hitachi development will hopefully be just the beginning of a very exciting era for Aycliffe Business Park."
The eighth issue of Aycliffe Today Business is being mailed out now, with businesses expected to receive them by Wednesday or Thursday, while additional copies will also be distributed across the park this week.
The online version will also be made available to view this week.