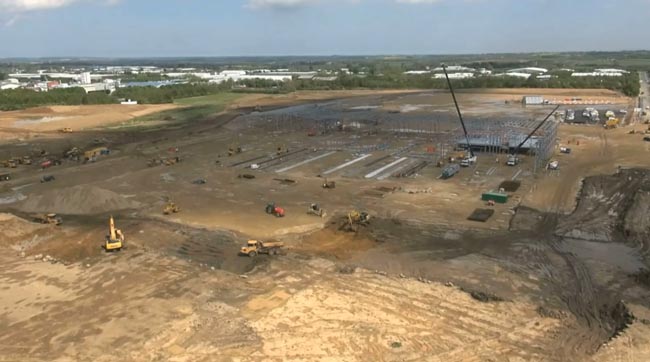 Hitachi Rail Europe has been credited for a surge in take-up of industrial space in the North-East.
London-based property consultants Knight Frank has published a report, saying a total of 1.28m sq ft of logistics and industrial space was taken up in the first six months of 2014 – double the figure recorded in the last half of 2013 and 72% above the five-year biannual average.
Simon Haggie, partner, industrial agency at Knight Frank says the activity at the start of this year reflected the strong, pent-up demand that was evident at the end of 2013.
Haggie pointed to Hitachi's £82m train-building factory on Aycliffe Business Park (above), which is due to be ready by late summer 2015, as one of the main factors.
"The first half figures were boosted by Hitachi Rail Europe commencing construction of its new 460,000 sq ft rail plant at Merchant Park, Newton Aycliffe, with completion expected in late 2015," said Haggie.
"The largest deal so far this year for existing space was the sale of the 188,000 sq ft Reckitt Benckiser pharmaceutical plant in Peterlee, County Durham, to Luton-based Bristol Laboratories. This was completed on confidential terms."
Export market demand for products manufactured in the North-East is strong, according to the Knight Frank report, maintaining its position as the UK's only net exporting regions.
Nissan continues to expand and invest, with a record half a million cars built in its Sunderland plant in 2013, driving property demand across the supply chain in the Tyne and Wear.
"As a result the availability of new and modern stock is becoming increasingly scarce," added Haggie.
"The anticipated pipeline of new schemes is proving slow to come forward, with only two small starter-unit schemes of currently on site in the region.
"Developer confidence in speculative build remains fragile, while the anticipated appetite for bespoke pre-lets is yet to materialise.
"There is little indication that developers are willing to bring forward speculative development in the region, meaning new development is only likely to come forward via design and build agreements."