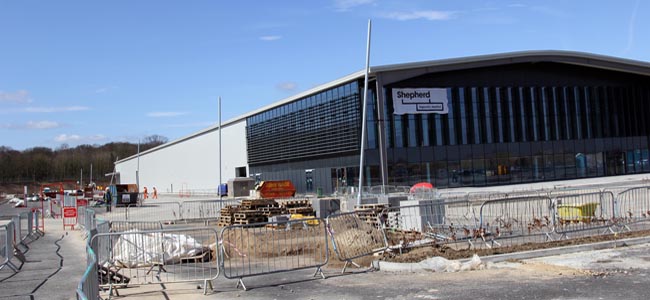 The company responsible for constructing Hitachi Rail Europe's new train-building site in Newton Aycliffe has won a national award.
Shepherd Construction, the main contractor for the Hitachi factory on Aycliffe Business Park, has won a prestigious Gold Award at the Considerate Constructors Scheme's 2015 National Site Awards.
The annual awards recognise the highest levels of consideration and care shown by construction sites throughout the UK towards their local neighbourhood, the general public, their workforce and the environment.
Only 98 UK sites achieved the gold standard this year from over 9,000 entries, making this site's achievement particularly significant.
The Scheme Monitor visiting the site particularly noted that educational support was strongly addressed, with regular presentations to colleges, academies, schools and other institutions as well as the hosting of frequent student visits to the site itself.
This was supported by a special CPD event for school teachers aimed at overcoming the stereotypes of working in construction – and encouraging a fresh look at its career opportunities. Equally effective environmental protection measures were also in place throughout the site, ranging from extensive energy-saving and water harvesting to detailed wildlife protection.
The award was presented at a glittering ceremony, held at the Balmoral Hotel, by Iain Conelly, President of the Royal Incorporation of Architects in Scotland, to representatives of the Shepherd Construction site team.
CCS chairman Mike Petter said: "We never fail to be impressed each year by the high levels of innovation and excellence evidenced throughout the industry.
"Each award-winning project serves as a shining example to the industry as to what can be achieved across a range of different sized projects and in all sectors of the industry.
"My congratulations to all sites that have received an award in 2015."
• Pictured (below): Representatives of Shepherd Construction accepts the Gold Award from Iain Conelly, President of the Royal Incorporation of Architects in Scotland (third from left).