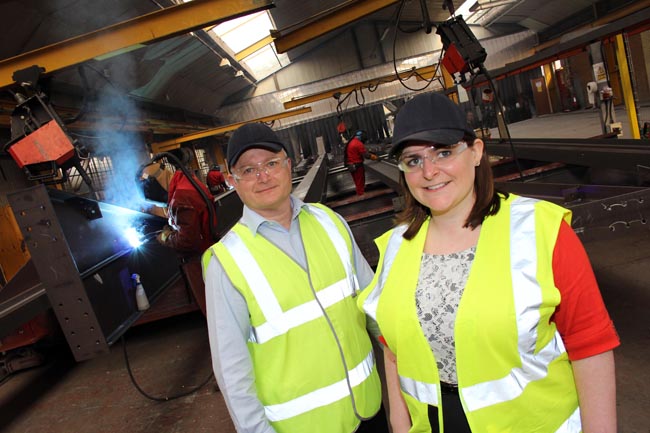 By Martin Walker
Steel firm Finley Structures has appointed a new senior quantity surveyor – and her first job is to work on the high-profile Hitachi Rail Europe project in Newton Aycliffe.
Diane Ruston is used to working on large-scale construction projects – among other contracts, she worked for Severfield Watson Structures, part of the Thirsk-based Severfield Rowen group, on the 5 Broadgate development in North London.
The 12-storey building – which includes 13,000 tonnes of steel, more than The Shard – will provide more than 700,000 sq ft of trading space.
Diane, 30, from York, says she jumped at the chance to work for Aycliffe-based family-run firm Finley Structures after eight years with Severfield.
"The attraction was working for a family firm, and working in smaller teams," says Diane, who graduated from Warwick University in 2004 with a degree in economics.
"I can get more involved in the systems side of jobs and looking at procedures, and the opportunity to work on projects like Hitachi's train-building factory is fantastic."
Darlington firm Shepherd Construction, the main contractor for the Hitachi project, handed Finley Structures the task of constructing the steel frame of the main factory on the 42,700sqm site at Aycliffe Business Park earlier this year.
Finley, based within a mile of Merchant Park, where Hitachi's new £82m facility is being built, has also been handed a secondary steelwork package in a huge contract involving a total of 2,000 tonnes of steel.
The factory, which will include a research and development centre, is supporting more than 200 local jobs in its construction and will employ 730 people once open by the end of summer 2015, as well as thousands more in the supply chain.
Diane added: "At the moment we're working on the main shed build, so there's a lot of Hitachi steel going through our factory at the moment. And around September time we'll start working on the secondary elements.
"I look after the financial and legal side of the project, sub-contract orders and working on our contract with Shepherd.
"It's great to be working on such a high-profile project straight away. The Hitachi development is huge for the area but also for the UK, so naturally we're keen to do the best job we possibly can."
Diane joining Finley Structures comes six months after the high-profile appointment of Severfield Rowen's operations director Jim Graham, who joined the Aycliffe firm as operations manager.
Managing director Julie Finley said: "Diane's appointment is another hugely positive development for the company and is another indicator of the direction in which we're heading.
"Our team has already showed its capability to work on major projects, but Diane brings more qualities to the table and, as well as working on the Hitachi project, her knowledge and expertise will only enhance all of the projects we're working on and will continue to win in the future."
Finley Structures, started by managing director John Finley in 2000, has completed a string of high-profile contracts in recent years.
The company has worked with Shepherd Construction on a 1,000-tonne project at Drax Power Station in Selby, North Yorkshire, and the 950-tonne National Renewable Energy Centre (NAREC) in Blyth, as well as a 500-tonne contract at Ercall Wood Technology College in Telford and a 400-tonne job at Daventry Academy, Northampton.
Finley's has increased its workforce in the last year to cope with a strong order book, up to 60 full-time employees, while its sister company, SCH Site Services, currently employs 34 people, making a total of 94 staff combined.
The firm reported a record annual turnover last year, up to £13.1m, and expects to at least equal that this year.
• Picture (above): Hitachi steel is fabricated inside Finley Structures' factory on Aycliffe Business Park as senior quantity surveyor Diane Ruston, pictured with operations manager Jim Graham, joins the firm.