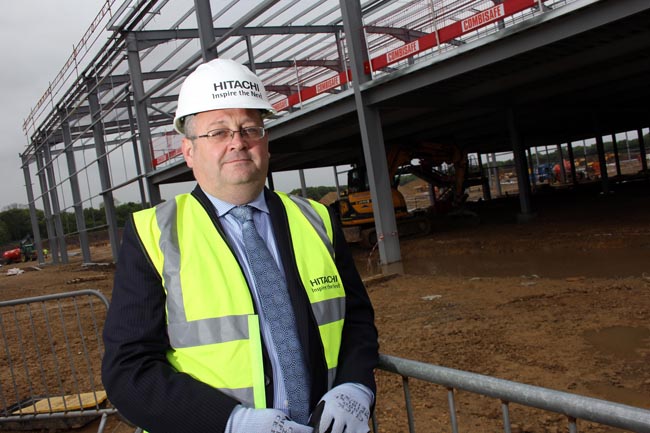 By Martin Walker
Hitachi Rail Europe has welcomed the Government's announcement this week to rubber-stamp plans for an engineering Centre of Excellence in Newton Aycliffe.
It was announced on Tuesday that the first Universal Technical College (UTC) for the North-East will be based on Aycliffe Business Park – a move which is hoped will help plug a forecast skills gap in the region.
The £10m South Durham UTC, sponsored by the University of Sunderland, Hitachi Rail Europe and Gestamp Tallent, will cater for 600 students a year, aged 14-19, and specialise in engineering and advanced manufacturing.
It's expected to be open by 2016.
GOVERNMENT APPROVES UTC FOR AYCLIFFE
Darren Cumner (pictured above), Manufacturing Plant Manager at Hitachi's Aycliffe site, said: "Sunderland University, Hitachi Rail Europe and Gestamp Tallent are delighted that our joint application for a UTC has been successful.
"We are keen to interest young people in engineering and technical professions and we believe that a UTC is an excellent way of doing so from an early age.
"Through the co-operation of these three organisations, we believe that we can provide a real insight into engineering and technical professions coupled with an excellent academic background.
"This paves the way for students to discover their own path into a career in engineering, either through an apprenticeship or further studies once they graduate from the UTC."
Hitachi Managing Director Keith Jordan added: "I am delighted that Hitachi Rail Europe's joint application with Sunderland University and Gestamp Tallent for a University Technical College has been given the go-ahead today.
"By attending our University Technical College, pupils will be able to gain a better understanding of the skills needed for a career in technology and explore whether this is a career path suited to their own abilities.
"For businesses in the North East of England and across the whole country, it is vital that we attract young people into technical and engineering professions from an early age.
"Working with them jointly with Gestamp Tallent and under the auspices of the University of Sunderland, we hope that we will engage their curiosity with regards to engineering, to find a career path that best suits them, while developing tomorrow's workforce for Hitachi's new train factory in Newton Aycliffe."
UTCs, the first of which opened in 2010, integrate academic study with practical learning, teaching core GCSEs alongside technical qualifications.
Both UTCs and studio schools develop their curriculum in partnership with local universities and employers to meet the employment needs of the region.
All UTCs are sponsored by universities alongside employers. More than 50 different universities are now involved in sponsoring the 17 UTCs open and 40 now in development, including eight Russell Group institutions.
Lord Baker, Chairman of the Baker Dearing Educational Trust, said: "UTCs are now an established and growing part of the education system. Developing and nurturing an ambitious and capable future workforce is vital to the success of our economy.
"UTCs make sense and work for employers, universities and, most importantly, young people."