A non-league footballer with a heart of gold gave away his first ever winners' medal to a dedicated supporter.
Northern League side Newton Aycliffe won the Durham County Challenge Cup with an entertaining, 3-1 victory over West Auckland at the Hetton Centre on Good Friday.
But after picking up several runners-up medals in recent years, the club's captain Paul Garthwaite gave his first top gong to Super Fan Martin Hughes, who uses his electric mobility scooter to go to every Aycliffe game.
Garthwaite twice went close to FA Vase glory with West Auckland at Wembley and was also a league runner-up in 2012.
The 23-year-old said: "This is my first winners' medal, and to be captain and to pick the trophy up myself was a great achievement.
"But I think the support Martin gives the club is awesome. He's here every week and for every game. When we're warming up before games he's already there.
"He went all the way to Camberley in the FA Vase, a 550-mile round-trip, and I just think he deserves it."
Martin, a former Woodham Academy pupil, suffers from hereditary spastic paraplegias, a genetic disorder which gradually weakens the leg muscles, and started supporting Aycliffe when the club joined the Northern League seven years ago.
"When Paul gave me the medal I was over the moon," beamed the 28-year-old, who in 2012 was named Aycliffe's Supporter of the Year.
"It's hard to describe how I felt. It was really nice. We've done really well this season. All the lads have played really well all year.
"I've always loved football. I used to play when I was younger and my Dad got me to be mascot at Darlington when I was seven, but my illness didn't affect me until I was about 16.
"But I don't let it stop me watching Aycliffe. I've been coming to games since the first season in the Northern League seven years ago, and I just love the club. It's just awesome and I love supporting my town."
Aycliffe needed extra-time to see off West in the final at Hetton, with Garthwaite scoring the third goal to ensure victory.
"I thought it was going to be one of those days where we just don't manage to get that goal," he added.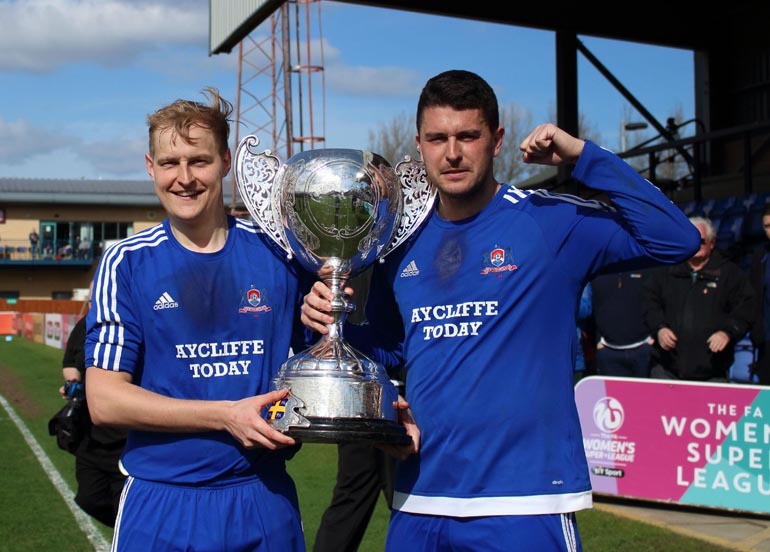 "It was unbelievable, and I think we deserve it. We've got a great squad, we've done really well this season and I think we deserved some silverware.
"This is only the start for us. We could still finish third in the first division, we're just going to keep aiming for that so we have something really solid to build on for next season."