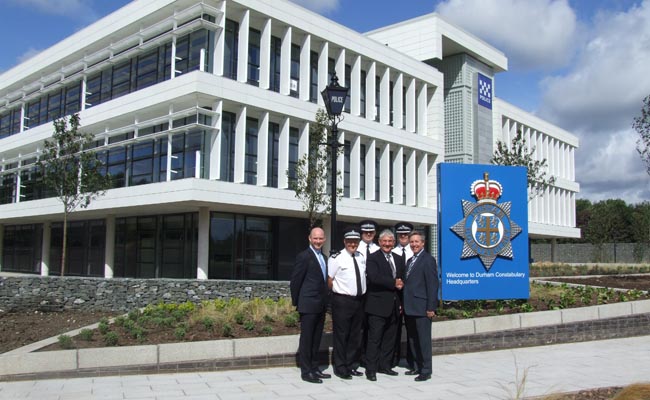 The Police and Crime Commissioner for Durham, Ron Hogg, and Durham Constabulary Chief Constable, Mike Barton, have taken ownership of the keys to the new police headquarters, handed over to them by the construction firm who completed the project, Kier Construction.
The new building, which has been developed on land adjacent to the existing headquarters at Aykley Heads in Durham, is a state-of-the-art facility which will house a communications centre and support functions, along with a range of other departments. It will hold over 600 staff.
Wednesday (20th August) marked the beginning of the big move. The keys were handed over after one final inspection of the facility by Mr Hogg and Mr Barton. Mr Hogg said: "As with any new property purchase, before taking hold of the keys I did one final inspection to make sure everything is perfect, and I'm happy that we have a building of an extremely high standard.
"We'll be starting to move staff in over the coming weeks and we have a strong plan in place to make sure that this is done with as little disruption as possible, so people can be assured that the high levels of service they have come to expect from Durham Constabulary will be maintained during this time."
Mr Barton commented: "The existing building had become a significant drain on resources and the new build will represent a big step forward for us in terms of managing the cost of our estate.
"We are delighted that the build schedule for the new headquarters has run so efficiently, and that we have now taken hold of the keys.  We will begin to move our furniture and then staff in, and expect to be fully relocated by mid-September.''
Brian McQuade, managing director of Kier Construction in the north-east and Scotland, said: "We are delighted to have been involved in this prestigious project for the design and build of the new police headquarters in Durham. We are pleased to hand over this project to a satisfied client and hope the facility affords the men and women of Durham Constabulary an exciting, iconic environment in which to work."