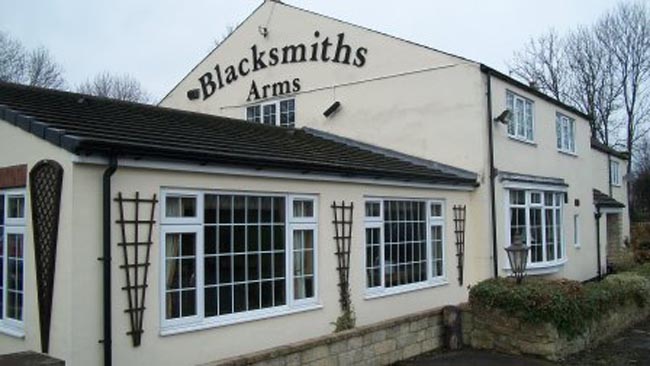 By Martin Walker
You could be the new owner of popular pub the Blacksmith's Arms – for a cool £425,000.
The Hammers, as it's known locally, has been put on the market by Leeds-based leisure property specialists Fleurets.
The freehold of the property, set in a beautiful 5-acre site on the outskirts of Aycliffe, is up for £425,000.
The property description says the Hammers is a detached property extending to two storeys with rendered and colour washed elevations under pitched tile and slate covered roofs.
The site incorporates a good size car park and spacious rear enclosed lawned beer garden with flagged patio.
There's also a rear outbuilding incorporating boiler house and private lawned gardens and adjoining fields which extend to 3.6 acres.
The Blacksmiths Arms was acquired by the current owners in 2003. In the intervening years they developed both the property and the business.
In 2005 the dining room was added together with a new disabled toilet and in 2007 the catering kitchen was extended.
During their time the owners have refurbished the property largely throughout, resulting in well presented front and back of house facilities.
"A popular and established food-led country inn, the Blacksmiths Arms succeeds in attracting in a largely regular and repeat trade from the surrounding towns of Darlington, Sedgefield, Newton Aycliffe and also Durham," says a report by Fleurets.
"The proximity of the A167 and the A1(M) allow the Blacksmiths Arms to benefit from a wide trading catchment.
"In addition to a healthy level of private trade, the Blacksmiths Arms is also well positioned to benefit from the proximity of the nearby Aycliffe Business Park which brings in business customers midweek."
The document says the Blacksmith's Arms food-led with an advised split of 70:30 food:drink.
Trading accounts for the year to 31st March 2014 show Trading Profits of £86,021 (before internal rent, directors salaries and depreciation) on Sales of £297,390 net of VAT.
Enquiries can be made to Fleurets on 0113 234 0304 or by email to [email protected]