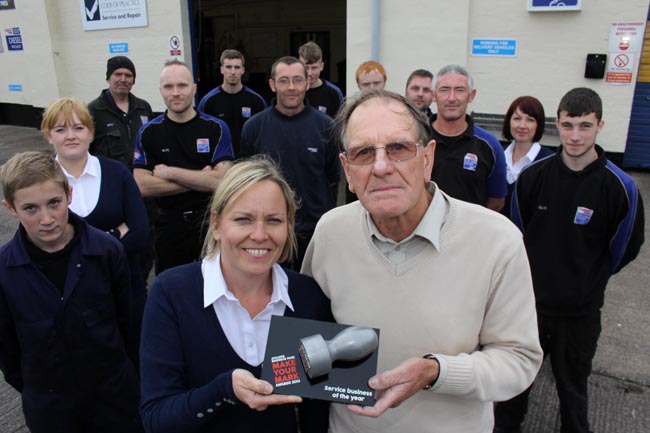 Newton Aycliffe car experts Gregg Little Testing Centre was named Service Business of the Year at Aycliffe Business Park's Make Your Mark business awards event.
And as a way of saying thanks, the garage has created a new winter offer for customers, with savings of up to £80 on a service and MOT.
Gregg Little Testing Centre (GLTC), which has been on the town now for 25 years, picked up the prestigious award after beating off competition from training-providers South West Durham Training and ITEC as well as Northern Janitorial Supplies.
"We're so proud to win this award," said Gregg. "It's great to see that what we do every day at the garage shines through I would like to congratulate the whole team.
"It's so good to see what we do is appreciated – and the fact we were nominated by customers is a great testimony."
Business development manager Emma Little added: "For us customer service is not a department, it's everyone's job.
"Every contact we have with a customer influences whether or not they'll come back. We have to be great every time or we'll lose them.
"We are so proud of the whole team at GLTC for winning this award, we all work hard on going that extra mile for our customers. We offer a fair and honest service which lots of people respect."
It was the comments from several customers which swayed it for the business judges.
Thomas Stoker said: "The welcome by the office staff when I booked the car in for repair was efficient and very friendly. This service was then carried on when I brought the car in for repair as the technician drove me back to my home to enable me to explain the fault and to give him a feeling for the fault on the breaking system."
Malcolm Hunter said: "Prompt and efficient service always from this garage. Added bonus of pick-up and collect service."
Sarah Keenan added: "Excellent as always!"
As a huge thank you to customers new and loyal regulars, GLTC is offering a fantastic Service 4 a Service* offer, perfect timing to give you a Little peace of mind for winter motoring.
GLTC is offering Aycliffe Today readers:
• Up to 50 % off an Interim Service costing you only £50 from now until end of 2014 – a saving of up to £50*
• Not only that if you get your MOT done at the same time you'll only pay £29.95 (normal price £39.95) for your MOT – that's an Interim Service and MOT for only £79.95* – saving you up to £60*
Plus get all this FREE
• Free Collection and Delivery Service within Newton Aycliffe and surrounding areas
• Free Drop off and Pick-up Service from work or home (as above)
• Free Courtesy Cars available (except for MOT's as they only take 30-40 mins – GLTC is happy to make you cuppa while you wait!)
• Free Mini Valet for every vehicle
• Free Refreshments in our warm and cosy waiting room
• Free Seasonal Healthcare Checks
Call GLTC's friendly team on 01325 321621 to make your booking today, and quote Service 4 a Service offer.
Terms and Conditions
* As this offer is amazing, unfortunately GLTC cannot run with any other promotion, discount or offer with the 'Service 4 a Service' offer – Offer available until end 2014.
* When booking, please quote Aycliffe Today.
CONTACT
Telephone: 01325 321 621
Email: [email protected]
Address: 6 Leaside, Aycliffe Business Park, DL5 6HZ
* You must quote Aycliffe Today People to take advantage of this offer!