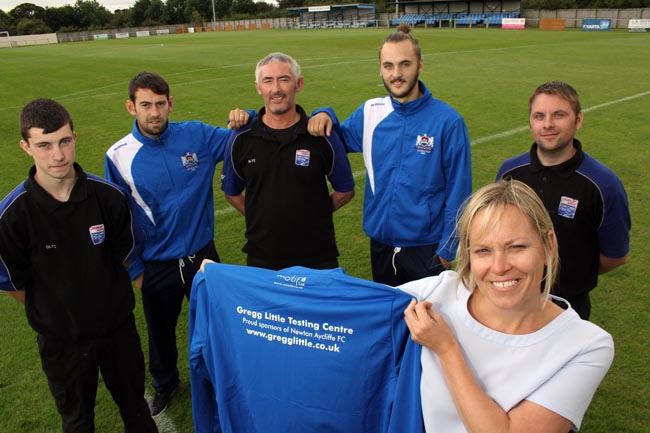 Local family firm Gregg Little Testing Centre is getting behind the town's football club with a new sponsorship for the 2014-15 season.
The company, which has been based on Aycliffe Business Park for 25 years, has forked out £1,000 to sponsor the Northern League club's tracksuits.
The deal is another example of the football club working closely with local businesses, and further highlights the support the club is getting from the local business community.
Aycliffe FC general manager Dan Lewis said: "This is just the type of sponsorship we're looking for, as we're well aware of Gregg Little's reputation for excellent service.
"The tracksuit sponsorship offers excellent exposure for Greg Little Testing Centre, with players and management staff travelling to and from all games in the tracksuits, as well as using them for community appearances specifically with the two partner junior clubs in the town.
"It's fantastic to see local firms like Gregg Little see the importance of supporting grass roots sport and the value of it."
Gregg Little's tracksuit deal follows years of donations to local organisations and charity fundraising which gives the company a firm standing in the local community.
The company has always supported local good causes, raising money and donating cash to the likes of the Rotary Club, Air Ambulance, Yellow Brick Road and Echo Cardiography at Bishop Auckland over the years.
The firm's business development manager, Emma Little, said: "We're very proud of the fact we've been in Newton Aycliffe and we were only too pleased to get involved with our local football club, who really do fly the flag for our town in the Northern League.
"We wish Adrian Webster and the players good luck in the 2014-15 season and hope they continue to do us proud."
With Emma as business development manager, Gregg Little's team consists of foreman Norman Travers, garage manager Les Douthwaite, office manager Claire Thain along with Alice Todd (customer relationships), Neil Atterby (bodyshop manager) and mechanics James Little, Andrew Walton, Luke Reynolds, Anthony Dowson and Bill Clemmett.
• For all your motoring needs, from MOT's to services and repairs, give Gregg Little Testing Centre a call today on 01325 321621.
• Businesses interested in getting involved with Newton Aycliffe FC can contact general manager Dan Lewis on 07581 784726 or email [email protected]