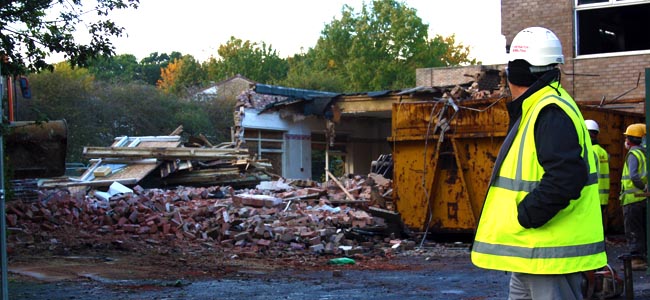 By Martin Walker
The demolition of a troublesome old care home which has stood derelict for years started this week.
Local residents cheered as workmen began laying into Greenfields Nursing Home, in Alston Crescent, Horndale, on Thursday.
"I think it is marvelous," said Councillor Dorothy Bowman.
"There have been problems on that site for years with youths, even when it was still a nursing home.
"We regularly discussed it at PACT meetings and we have had a petition going calling for it to be knocked down.
"It is an eye-sore and we will be glad to see it go."
Durham County Councillors last month voted unanimously to knock down the home and replace it with 22 affordable homes.
The £2m scheme, by house building group Galliford Try and social housing provider Livin, will create 11 two-bedroom and 11 three-bed properties for rent.
Police and nearby residents had already backed the scheme because they felt it would reduce anti-social behaviour, as it had become a meeting place for teenagers to smoke, drink and take drugs.
The site, which is set back from the road, will have 30 parking spaces, and houses will be available for local people to rent or buy next September.
See more pictures below…