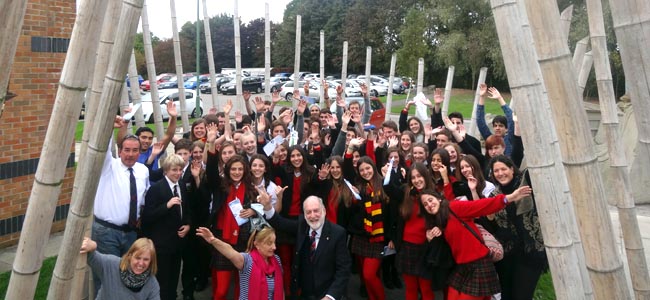 Greenfield College was pleased to welcome a cohort of young people and students from Buenos Aires this week.
The group are undertaking a tour of England and Ireland, visiting notable places, schools and landmarks – and they chose to visit Greenfield Arts' International Symposium of Teaching and Learning.
The 30 students, aged 15 and 16, and the four accompanying staff from Bede's Academy spent the day with the school on Monday.
Alongside a group of Greenfield Community College's star linguists from Year 10 the group explored the possibility of a universal language in Room 13, printed postcards in the Gallery, and had a quick Kiswahili lesson.
Staff and students at Greenfield were also treated to a performance from their overseas visitors – hearing their school song, and seeing some traditional dances.
"We are looking forward to continuing to develop the great new friendships created today with future visits and skype sessions from our Argentinian colleagues!" said the school.