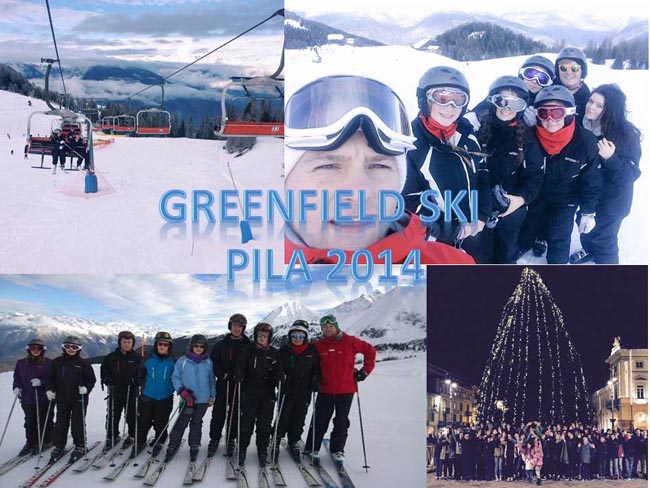 A group of over 80 students and teachers from Greenfield Community College (both Greenfield and Sunnydale campuses) enjoyed a brilliant time in Italy's Aosta Valley when they took part in the annual ski residential during the last week of term.
Greenfield has visited Pila, a superb Italian ski resort boastings stunning views of Monte Bianco, for many years and during this time over 900 students have benefitted from the first class tuition provided by the Italian and British instructors.
In fact 12 former students have gone on to gain scholarships and become instructors in their own right.
This year, following promotion to one of the Deputy Head posts within the school, has marked the last residential for party leader of the course, Mr Dixon.
However, his dedication to learning outside of the classroom has left a legacy that ensures that skiing will be offered to future generations of Greenfield students and that they too will develop life- long skills.
Mr Dixon said: "I have been very fortunate to have had the opportunity to accompany the ski residential for so many years and seen our young people develop year on year- not only in winter sports but as young people and members of our community.
"I am very proud of the ethos we have created. Our residential is about lifelong learning, both on and off the slopes.
"Pupils learn a new craft but also realise a life changing educational experience. They are up early, into lessons all day, follow a comprehensive après ski programme and complete a full programme of school work on an evening.
"They work extremely hard, but each and every one 'grows' during the week and this, for me, is what education, in its simplest form, is all about."
Assemblies are taking place at both campuses during the week beginning 26th January to launch Ski Pila 2015 and it is hoped that we will supersede the numbers recruited last year!
You can follow them on Twitter: @GreenfieldSki