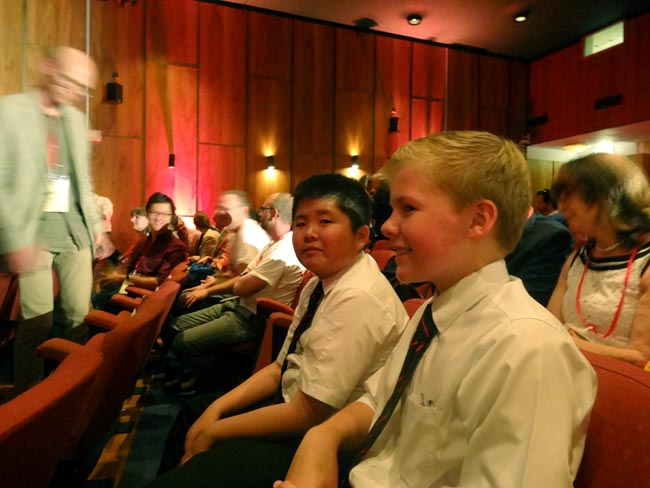 A Greenfield Arts and Durham University project to encourage learning amongst young people has won a national award.
The National Co-ordinating Centre for Public Engagement (NCCPE) announced 'What If…?' as the winner in the 'Engaging Young People' category, at a ceremony in the Natural History Museum, London last week.
The aim of the What if…? Project was to encourage young people to explore their own curiosity and interests to determine their own personal learning.
The project, managed and developed by Greenfield Arts with researchers at Durham University, encouraged a group of Greenfield Community College students as part of a STEM club to work with theatre makers Unfolding Theatre and researchers from Durham University to be curious about science and the world around them.
The judges said of this project: "We loved the way that the children led the project.  They weren't treated as 'empty vessels' – it was their curiosity that drove the project and opened up the world of research."
In collaboration with Greenfield Arts, teachers from Greenfield Community College, theatre makers Unfolding Theatre and scientific researchers from Durham University, the students were challenged to develop and direct an interactive performance piece aimed at engaging and inspiring their peers.
The performance piece challenges audiences to explore their own curiosity, and investigates the research, personal journeys and daily experiences of contributing scientists.
So far, it has reached over 2000 people in school and community groups via a school tour in July 2013 and performances at local theatre festivals including Darlington's Jabberwocky Market.
Katy Milne, Director of Arts and Creativity at Greenfield Arts, said: "This is a fantastic achievement for this successful project.
"It is great to see the hard work of all of those involved recognised in this way, especially the young people as the project was completely led by their curiosity.
"The power of the ongoing partnerships involved in the project created a safe nurturing environment for this to flourish and again combined the strength of the arts and sciences effectively to inspire curiosity in others. Well done to all!"
John Womersley, Public Engagement Champion for Research Councils UK, said "It is great to see so many examples of the valued contributions that UK researchers make to society.
"When people think of public engagement, what usually comes to mind is the need for researchers to share their findings. Of course that's hugely important, but the entries to this competition show a much richer range of two-way engagement that can bring much deeper benefits both to research and society."
● Pictured (above) is Aidan Wong and Aidan Robson – two of the students involved in the What If…? project – at the awards ceremony in London.