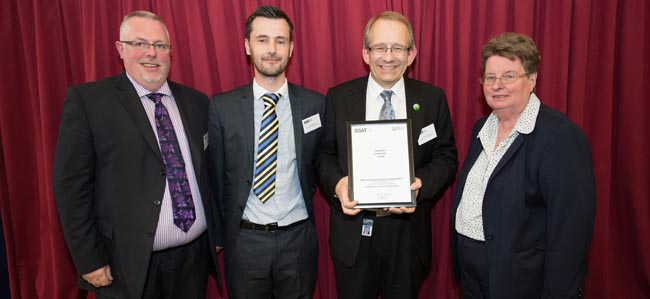 Greenfield Community College received two SSAT Educational Outcomes Awards at an event in Newcastle on Friday.
The Outstanding Continuous Improvement award is for being in the top 20% of schools nationally based on improvement in the percentage of pupils achieving 5+ A*-C grades, including English and mathematics, and the Outstanding Progress award is for being in the top 20% of schools nationally for value-added.
A recent in-depth analysis of official Department for Education data bringing together the latest performance and contextual data and Ofsted gradings on all state-funded schools in England by SSAT, the national schools' membership organisation for improvement and collaboration, identified a number of schools' success.
Greenfield, among other schools from across the North East, was invited to receive its award at a regional celebration ceremony hosted by SSAT.
Other ceremonies are being held around the country in the following weeks.
Sue Williamson, Chief Executive of SSAT said: "These schools should be congratulated for their exceptional achievement.
"They have proved themselves to be leading the field in improving GCSE outcomes for their students.
"These results are testament to the commitment and hard work of the students, teachers and leadership teams, and show what can be achieved when skilled teachers have high expectations and ambition for every young person.
"I am proud that these schools are members of the SSAT network."
● Pictured (above) is Greenfield head David Priestly with assistant heads Jim Ward and John Moffatt and Sue Williamson, chief executive of SSAT.