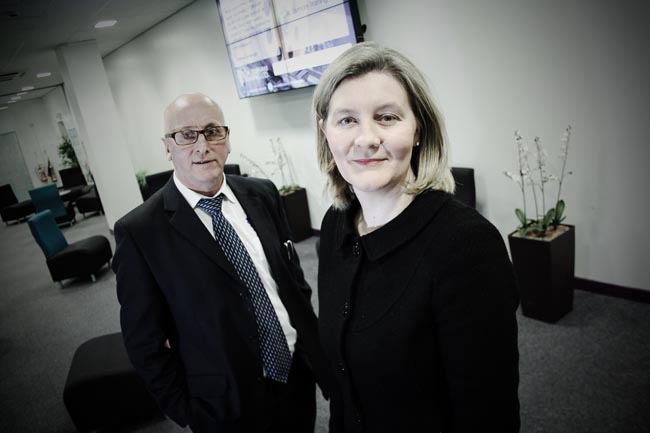 It's a new era for South West Durham Training, as the training provider enters into partnership with Bishop Auckland College. Martin Walker finds out more…
South West Durham Training (SWDT) is now officially a very different proposition.
In December, the training provider was championed by Ofsted as one of the highest performing engineering training providers in the country – having been the first member of the Group Training Association of England ever to have received an "outstanding" grade across all areas.
The welcome accolade marked an impressive turnaround in SWDT's fortunes.
In 2013 Ofsted inspectors had highlighted a number of areas requiring improvement and the board was facing major financial challenges due largely to Government funding cuts which necessitated a comprehensive staffing restructure.
So what has happened over the past year to transform the situation at SWDT?
Key changes have included the appointment last January of Chief Executive Trevor Alley, who has 30 years' experience in the further education sector and an impressive engineering CV, and a new partnership with Bishop Auckland College (BAC), announced last August.
SWDT is now a subsidiary of the college, trading under its own brand as a separate registered charity. The partners are working jointly to increase the provision of high quality training for the engineering and manufacturing sectors to meet emerging regional labour market demands.
The collaboration will provide opportunities for joint curriculum and quality developments, extensive employer engagement and pooling of resources, including combined marketing drives and shared back office services.
BAC and SWDT have joined forces to support a new Apprenticeship campaign for the North East, appropriately named 'Greater Together… It Takes Two', due start in January on Heart Radio and run through to March, and will coincide with national TV adverts.
"We're already starting to see the benefits of forming this partnership with the college," says Trevor.
"There has been a short settling in period, while we understand what they can do for us and vice versa, but we've settled in quite nicely now. Our procedures and processes are now being shared between the two centres and are a good example of some of the synergy that exists between the two organisations.
"We've also benefited from £30,000-worth of IT infrastructure improvements, which will mean faster internet and wireless connections for learners and staff, and it will also harmonise our systems with Bishop Auckland's systems.
"And we're benefiting from massive savings in some of the software packages we need. Our finances are being taken care of by the college, which is working well for us.
"We've done quite a lot of work with the finance director in preparing our budget forecast for 2015. We've had a tough couple of years, we're not afraid to admit that, but our financial position is looking much better. We're much more settled.
"We can carry on doing the business to the same high-quality standard, but without many of the overheads we had before.
"We're now regaining business that we'd either lost previously, or had maybe stagnated a bit."
As part of the new arrangements, BAC's newly-appointed Chair – none other than Ebac Managing Director Pamela Petty – and its Principal and Chief Executive, Natalie Davison, now sit on SWDT's board.
Likewise, SWDT Chair Steve Rose and Vice-Chair Andy Dunn, from Nifco, both sit on BAC's Board – bringing a wealth of engineering and manufacturing experience and influence around one table.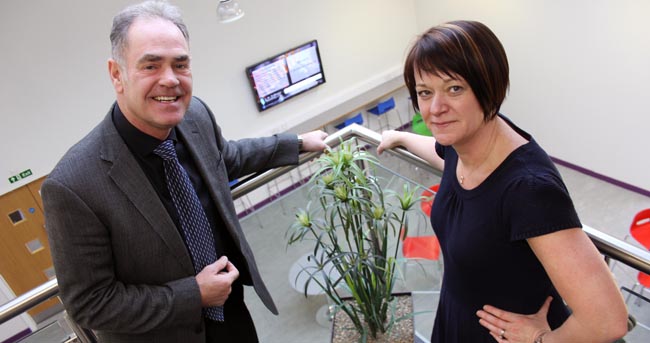 SWDT chair Steve Rose (left) with Bishop Auckland College chair and Ebac boss Pamela Petty.
Like Trevor, Natalie (pictured above with Trevor) also has an engineering background. After leaving Woodham Comprehensive School and doing a degree in chemical engineering, she began her career in detergent manufacturing with Procter & Gamble before moving into the further education sector in 1997.
Natalie taught and managed engineering provision in South Essex before leading the technology faculty at Newham College in East London, then a specialist centre for railway engineering.
Under her stewardship the college is enjoying a growing reputation for excellence and was last year named in the top ten per cent in the country for student success rates by the Skills Funding Agency, with 91% of students achieving their qualification.
Natalie said: "There are clear benefits for both Bishop Auckland College and South West Durham Training from working together in close partnership.
"Ensuring skills and training meet the demands of growth sectors, including advanced manufacturing/engineering, is a key priority of the North-East Local Enterprise Partnership, which is encouraging training providers to collaborate in this way.
"We are jointly developing high quality technical training programmes in engineering, manufacturing and allied trades including Level 5 HNDs and higher apprenticeships to address the emerging skills gap, particularly as highly skilled people near retirement.
"We boast superb facilities where we can also deliver bespoke training programmes and I would encourage employers to contact us to come and see what we can offer them."
In the partnership's first jobs success, two of the college's Business Administration students have been taken on as apprentices by SWDT.
Fern Archer, 18, and Calvin Wilson, 19, both of Newton Aycliffe, are working in SWDT's offices four days per week, with one day spent at the college working on their Level 2 qualification.
Pamela Petty said: "This is the first of many positive outcomes we anticipate from our partnership with SWDT.
"Building on our joint strengths and resources we aim to deliver the highest quality training to meet the needs of both employers and the current and future workforce, in a challenging funding climate."
Calvin, who previously achieved four A levels, added: "I decided to pursue an apprenticeship as opposed to university as it offered me the chance to gain both work experience and a qualification which can open up opportunities in many of areas of work."
The partnership is currently developing collaborative 14-16 programmes, full-time vocational 16-19 pathways to Level 3, and part-time adult programmes and workplace learning.
In addition there will be new traineeships and apprenticeships, adult pre-employment training and Higher Education programmes.
Steve Rose said: "The two organisations have worked closely together for many years and this partnership will extend the provision of high quality technical training in engineering, manufacturing and allied trades, in line with local and regional labour market demands.
"The creation of these two new apprenticeships is another example of the benefits of our close working relationship."
Last year, SWDT struck a deal with Hitachi Rail Europe to teach some its future train-builders.
Hitachi is investing £1 million in a prototype train which will be installed at SWDT's premises as part of the deal – the train, shipped from Japan, is already on its way to Aycliffe.
Meanwhile, the Japanese firm is also locating around 70 staff at SWDT until its £82m facility opens later this year.
With SWDT's Ofsted report, the partnership with Bishop Auckland College comes off the back of several good news stories.
Trevor added: "I should point out that all these positive developments are as a result of more than a year's work behind the scenes.
"As a result of all the achievements and improvements we've made over the last 12-18 months, businesses are coming back to us.
"They're recognising the changes that have been made and they acknowledge we're in a much stronger position now to accommodate the needs of all engineering and manufacturing companies in Aycliffe, County Durham and the wider region."
• Firms who'd like to speak to SWDT about training opportunities can contact Trevor Alley on 01325 313194 or [email protected]