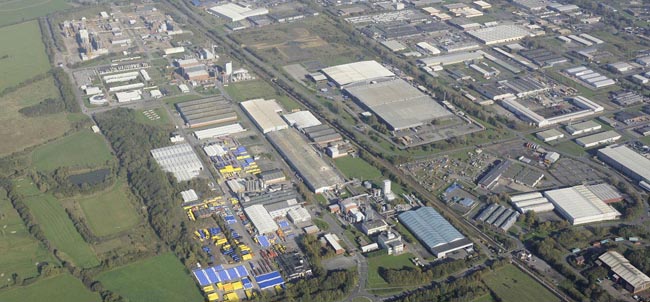 By Martin Walker
The Government has confirmed the first Universal Technical College (UTC) for the North-East will be in Newton Aycliffe.
South Durham UTC, sponsored by the University of Sunderland, Hitachi Rail Europe and Gestamp Tallent, will cater for 600 students a year, aged 14-19, and specialise in engineering and advanced manufacturing on Aycliffe Business Park.
Thousands more places offering specialist, technical education are to be created after proposals for seven new University Technical Colleges (UTC) and four new studio schools nationally were announced by Chancellor George Osborne on Tuesday.
The new schools, backed by local businesses and universities, will provide more than 5,000 places (when full) for 14- to 19-year-olds up and down the country.
The schools will offer a more technical or vocational based education using curricula developed in partnership with universities and employers.
This will ensure students are developing the skills needed in a particular region or sector.
The latest approvals mean that all open UTCs or studio schools, or those approved to open, now offer in total places for more than 50,000 young people, allowing them to train for careers that are key to the economy, such as engineering and science.
The new schools will work with more than 40 major national and local employers including Jaguar Land Rover, Dyson and Kew Botanical Gardens.
In addition, seven universities will work alongside the new UTCs to provide the next generation of school leavers with the technical knowledge and other skills that industry demands.
George Osborne said: "University Technical Colleges are a key part of the Government's long-term economic plan because they help ensure young people have the right skills so they can maximise their potential.
"The new colleges will provide the next generation of British workers with the skills they need to secure the high tech jobs of the future.
"This is an excellent example of how we are delivering a sustainable and resilient recovery by laying the foundations for a brighter economic future for the UK."
UTCs, the first of which opened in 2010, integrate academic study with practical learning, teaching core GCSEs alongside technical qualifications.
Both UTCs and studio schools develop their curriculum in partnership with local universities and employers to meet the employment needs of the region.
All UTCs are sponsored by universities alongside employers. More than 50 different universities are now involved in sponsoring the 17 UTCs open and 40 now in development, including eight Russell Group institutions.