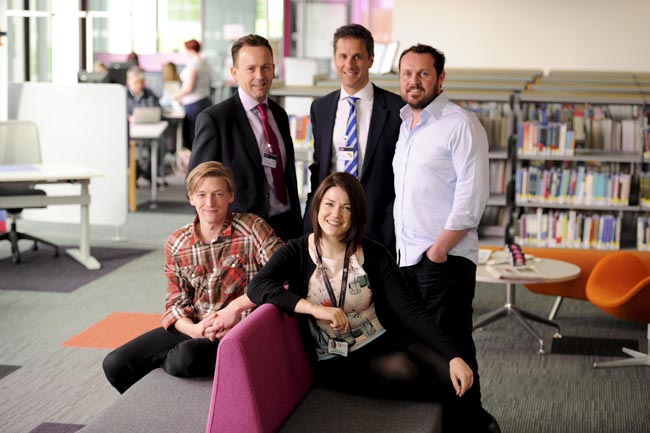 By Martin Walker
Small firms on Aycliffe Business Park are being offered the chance to access a free leadership development programme which has a proven track record of helping businesses to grow.
Teesside University Business School's Leading Growth programme was developed after leveraging funding from the European Regional Development Fund (ERDF) to offer leadership and management training Small to Medium-sized Enterprises (SMEs).
The first cohort of the Leading Growth programme are already reaping the rewards, and now firms on Aycliffe have a chance to enrol on the next cohorts, due to start in September and January 2015.
The programme, which lasts nine months, has been specifically designed to help SME owner-managers and senior directors improve their leadership skills and step back from the day-to-day running of the business, allowing them to focus on taking their company to the next level.
It consists of a two-day residential event, a series of think tank sessions, as well as one-to-one business coaching, action learning, observational site visits and business shadowing.
The programme has been carefully developed by University experts to ensure there is a rigorous approach to development and rich content, which includes input from inspirational industry leaders.
Michelle Atkins is the Leading Growth Project Manager, and has come to Teesside after successfully implementing a similar programme at Lancaster University.
"The primary aim is to improve the leadership skills of owner-managers which will have a direct positive effect on the bottom line of their business," said Michelle.
"Hopefully it will allow them to take a step back from the day-to-day aspect of their company and focus on the strategic direction of the business.
"The programme links delegates with a network of like-minded peers in a supportive and non-competitive environment to promote the sharing of ideas and knowledge. Similar programmes have demonstrated significant economic benefits."
Two local firms are on the current programme and are already reaping the rewards.
Steve Foster, Director of AS Training on Aycliffe Business Park, said: "The Leading Growth programme to-date has made me realise that to grow AS Training a more strategic approach to management is required.
"This will allow for long-term planning to be realised, which will in turn identify the direction the company is going to take and have a target to measure against.
"Although time-consuming for a small growing company, the time allocated to Leading Growth has already made an impact on the future strategic plans of AS Training and therefore is beneficial
"As specialists in Leadership and Development training and consultancy we see being part of the Leading Growth programme as very positive to controlled growth."
Stuart Merrie, General Manager of Shildon industrial recycling firm Plasrec, which employs 13 people, is on the course to help both him and his business through a period of transition.
Stuart is taking gradual ownership of the company over the next few years, and he said: "I saw the programme as an ideal opportunity for me to develop me personally while also benefiting the business.
"The course is well run and the guest speakers are always of a high-quality, so the benefits it brings far outweighs the time put into it."
Meanwhile, other participants from around the Tees Valley area have also said it is already having an impact on their work.
Sim Hall, from Darlington-based recruitment specialists Populus Select, said: "With the business growing, I wanted to ensure I had the necessary skills to keep it growing even further. I'm very excited about how the course is developing."
Councillor Neil Foster, Deputy Chair of the North East ERDF Local Management Committee, said: "Investing ERDF in this latest Teesside University project is excellent news as it will increase the growth and competitiveness of existing SMEs who will be supported to develop their skills and expertise to drive growth and create jobs, benefiting the local economy."
The programme is completely free for eligible SMEs. Anybody interested in taking part in the next cohort of the Leading Growth programme can contact Michelle Atkins on 01642 738298 or email [email protected]
Pictured above: Back row (from left) Mike Baum, Sim Hall and Dave Chapman are already repaing the rewards of Teesside University's Leading Growth Programme. Front row (from left): Cohort Rob Skene and Teesside Uni's Project Manager Michelle Atkins.