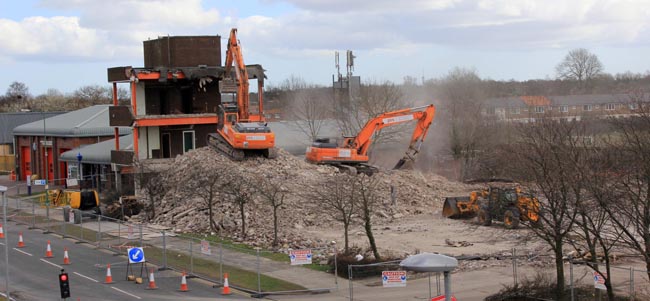 EXCLUSIVE By Martin Walker
A new care home is expected to be built on the site of the former Newton Aycliffe police station, which has been reduced to rubble after it was sold by Durham Constabulary.
The demolition of the three-storey structure on Central Avenue, built in the 1960s, cost £86,000 and our picture above shows how it's today (Friday) almost finished.
Our picture gallery below shows the progress of the demolition which started on Tuesday this week.
The 1.1-acre site had been on the market with commercial property agents GVA since last September.
And Aycliffe Today understands the land has been sold to a care home provider, although there has been no official confirmation.
A police spokesperson told Aycliffe Today: "We have marketed the site and identified a preferred purchaser. However, legal contracts are not signed yet.
"We hope to complete after demolition after which we can announce the purchaser with some certainty."
Police had said the high cost of the demolition was due to asbestos removal, but that the sale of the site would generate "much needed resources" for the force.
It has not yet been confirmed whether the interested buyer plans to develop the site for residential or commercial use.
But in the Sedgefield Development Plan the land is identified as suitable for a range of purposes, including retail, office, leisure, residential, car showroom, petrol station and leisure.
The Newton Aycliffe Neighbourhood Police Team moved out of the Central Avenue station in February 2011 after the building was deemed unfit for purpose.
Plans to build a new station had to be scrapped after budget cuts and the Aycliffe officers spent more than two years at the HUB Workspace on Aycliffe Business Park, which proved unpopular with residents, before moving into the town's fire station in November 2013.