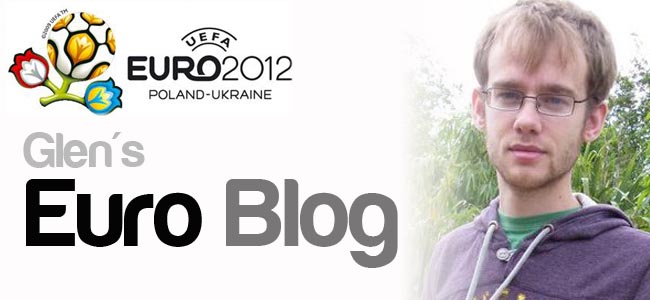 Aycliffe Today Sports Editor and Newton Aycliffe FC reporter Glen Robertson completes his Euro 2012 blog after Sunday's final…
I don't think anyone will forget the Euro 2012 final.
Not only did Spain cement their status as one of the greatest teams in the history of the game, they did it by annihilating a very talented Italy side.
The 1970 Brazilian side beat Italy 4-1 in the World Cup final. Spain are now up there alongside Pele, Jairzinho and Co. after their thumping 4-0 victory.
Spain had been accused of being boring by some pundits during the competition, but anyone who found their performance in Kiev dull needs to find a new sport to follow.
They were almost unplayable. Andres Iniesta and Xavi were at their very best, opening the Italian rearguard at will.
Mario Balotelli was anonymous as Spain dominated the game. Andrea Pirlo was kept quiet by Xavi, who saved his best performance of the tournament for the final.
The entire Spain side had. Just like Barcelona, they seem to thrive under the pressure of the big games. They can seem like they are struggling in the earlier stages of a competition, but when it gets to the final they rarely fire a blank.
Italy were on the end of the same kind of thrashing as Manchester United received in 2009 and 2011 by Barcelona. Xavi, Iniesta, Sergio Busquets and Gerard Pique have been central to both teams during that time
To have that much of a gulf in class in a major final is extremely rare. Think of Usain Bolt celebrating his way to a world record in the 100m in Beijing a the 2008 Olympics. That's the kind of dominance Spain enjoyed.
They were creating chances at will, dragging the Italian players all over the pitch. Had Sergio Ramos' backheel in stoppage time found the net, it would have been the iconic goal to round off the sheer domination – their Carlos Alberto 1970 moment.
Iniesta, Xavi, Busquets and Xabi Alonso kept possession brilliantly spreading the play from wing-to-wing before looking for a killer through ball. Cesc Fabregas and David Silva were at their penetrating best.
Fernando Torres came off the bench to score one and assist another, securing the tournament's golden boot in the process.
Juan Mata got his first taste of the tournament, coming off the bench and scoring within 74 seconds. Yes, Spain are so good Chelsea-star Mata couldn't get in the team, until they were cruising 3-0 in the final. Fernando Llorente and Victor Valdes didn't even play a minute.
And the squad still remains relatively young. It's hard to think of anyone who started in Kiev who won't be in Brazil in 2014, as Spain attempt to become the first team to retain the World Cup since Brazil in 1962.
That will be the group's greatest challenge yet. Iniesta and Xavi are already being mentioned in the same breath as Zinedine Zidane and Michel Platini as all-time greats. Should they lift the World Cup in 2014, they'll have a category to themselves as the greatest ever midfielders.
But they are just two individuals in a fantastic squad of players. From 2008 to 2012, the group has had a huge grip on world football.
Back in 2008 Busquets was a Barcelona B player, plying his trade in Spain's third division. Now he's won the European Championships, the World Cup, the Champions League twice and La Liga three times. He's only 23.
It's hard to see when the dominance of Spain, Barcelona and Real Madrid will ever stop. At club level, the huge chasm in quality between the two giants and the rest of Europe can be closed by clubs like Chelsea and Man City, where money is no object and then can afford to snap up their own Spanish superstars.
But that's not the case at international level, though. It could take years for someone to knock the Spaniards off their perch.