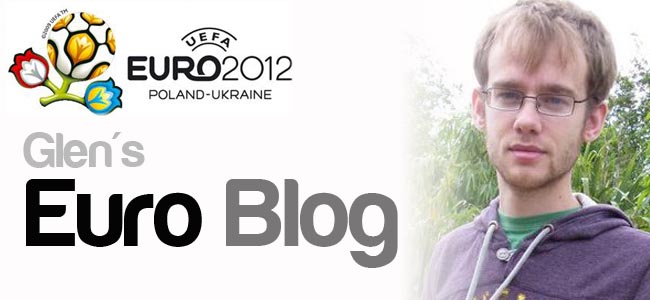 Aycliffe Today Sports Editor and Newton Aycliffe FC reporter Glen Robertson continues his daily Euro 2012 blog…
Spain 0-0 Portugal – Spain win 4-2 on penalties
See how much more fun penalties are, when they involve two other nations?
Spain are on the verge of history after seeing off neighbours Portugal via spot-kicks. They can become the first ever national side to win three successive major tournaments, if they are victorious on Sunday night.
But they saw off the Portuguese the hard way. Paulo Bento's side brilliantly disrupted Spain's rhythm, especially for the first hour. But the goal never came, and the Spaniards were able to get off the canvas, recover, and land the knockout blow in the shoot-out.
Portugal's perfect moment came in injury time, as they countered superbly. With Cristiano Ronaldo waiting, Raul Meireles mis-hit his pass, and the Real Madrid star had to adjust his run, and fired wildly over the crossbar.
Ronaldo had been a danger throughout and would have been a worthy match-winner. It was just unfortunate for him that it was Meireles that was playing the final pass, and not Joao Moutinho, who would have surely given Ronaldo the ball he was demanding.
Spain were much improved in extra-time, as Portugal had tired themselves out. Andres Iniesta came incredibly close to sealing the victory, but Rui Patricio pulled off a fantastic point-blank save.
And so it went to penalties. After 27 games without a goalless draw, the competition has now had two in a row. But what a penalty shoot-out.
Rui Patricio saved excellently from Xabi Alonso, before Iker Casillas matched him by stopping Moutinho's effort.
Then Iniesta, Pepe, Gerard Pique, Nani and Sergio Ramos (brilliantly) scored with some brilliantly struck spot-kicks. But Bruno Alves smashed his effort off the crossbar, and Cesc Fabregas found the net, via the post, to put Spain in the final.
For neutrals, it is the first half of a dream final set-up. Now for Germany to see off Italy to make it official. Easy, right?
Germany versus Italy
Err, not quite. Germany have never beaten Italy at a tournament.
Italy have beaten them in a World Cup final and two semi-finals, the last coming in 2006.
The semi-final was in Germany and the two sides played out a stunning goalless draw. Both teams went all out to win, but neither side could find the decisive goal.
That was until Fabio Grosso's 119th minute pearler. Alessandro Del Piero added a second in stoppage time, to end a truly classic encounter.
Chances are we're in store for another terrific game tonight. Germany have a 100% record in the competition, including their qualification games. Italy are unbeaten at the finals, and are the only team to have scored against Spain.
Bastian Schweinsteiger and Andrea Pirlo are two of the very best midfielders in world football, while Mesut Ozil will wreak havoc between the lines of the Italian midfield and their back four.
In Gianluigi Buffon and Manuel Neuer, the game will also have two of the best goalkeepers in the world on display.
But who will prevail in this clash of Europe's most successful footballing nations? Can Germany set up the final most people wanted to see before the tournament began? Or will Italy arrange a rematch with the Spaniards?
There will be goals, there will be excitement and there could even be another penalty shoot-out. But, just as England hardly ever beat Germany, Germany never beat Italy. That record will continue tonight.
Prediction: Italy 1-1 Germany, Italy to win in extra-time