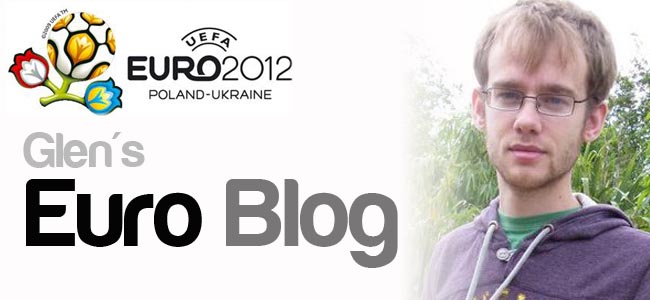 Aycliffe Today Sports Editor and Newton Aycliffe FC reporter Glen Robertson continues his daily Euro 2012 blog…
England 0-0 Italy – Italy win 4-2 on penalties
Once again, England exited a major tournament via the dreaded spot-kicks.
Ashley Young and Ashley Cole both missed their penalties, as the Italians progressed to a showdown with Germany in the semi-finals.
It has become a similar story for England fans. They have lost on penalties in major tournaments in 1990, '96, '98, 2004, '06 and now '12.
If England had progressed in the shoot-out, it would have been one of the most unjust results in the tournament. Even the most patriotic of Englishmen would admit that Italy were far superior during the two hours.
But it is no shame for England to go out in this way.
Before the tournament there were some who thought they wouldn't win a game, and would be returning home after the group stages.
Instead, England ended unbeaten after two victories against Sweden and Ukraine, and draws with France and Italy.
They never dazzled, but they never were going to with the players they had available. The likes of James Milner and Scott Parker wouldn't have got near the starting line-ups of any of the traditional heavyweights.
The duo are there to do a defensive job and put in the graft, but they are never going to control a game or produce a piece of magic to win a game.
Steven Gerrard is the player more likely to do the latter, but he's better utilised further forward, playing just off a front man. But after injuries to Gareth Barry and Frank Lampard, and Paul Scholes and Michael Carrick having retired from international football, England had nobody to sit alongside Parker and dictate the play, so Gerrard was forced to move back.
Wayne Rooney was off the pace, as he would be after not playing for five weeks. Maybe an extra friendly should have been organised before the tournament, to allow Rooney some proper game time.
Manager Roy Hodgson did a sterling job throughout the tournament. With very little time to prepare, he managed to set-up England so they were difficult to beat. He got them as far as anyone could realistically expect them to.
But now his real work starts. On the pitch, he needs to move on to the next generation. England won't win the World Cup in 2014 in Brazil. Only Spain and Germany have a chance of toppling Brazil, Argentina and, possibly, Uruguay.
With that in mind, Hodgson can mould a team for the 2016 European Championships in France. Out will go John Terry and Steven Gerrard, players who have performed admirably for their country through the years, but having seen their time pass.
The likes of Jack Wilshere, Alex Oxlade-Chamberlain, Danny Welbeck, Theo Walcott, Chris Smalling, Micah Richards, Kyle Walker, Daniel Sturridge and Tom Cleverley now have a chance to show the merits of the next generation.
There are some exciting players coming through the English system and it will be Hodgson's job to get them firing at international level.
Off the field, the FA need to go back to basics at grassroots level. When Germany failed at Euro 2000, they overhauled the whole system in their country, and 12 years on they have one of the most skilful, youthful sides international football has seen.
England – and the rest of the United Kingdom – can do the same. They have already made their first step, by abolishing 11-a-side football for under 13s, a superb move that should improve the technique of 10-12-year-olds. But more needs to be done.
Kids need to be taught that technique is more important than strength. Brains more useful than brawn. The football should be passed out of defence, not punted in the general direction of a tall striker. The art of taking a penalty wouldn't be a bad lesson to take, either.
By taking these steps, England might one day progress further in an international tournament.
As for this tournament, there are three games left, between the four most exciting teams on the continent. As silver linings go, that's a pretty good one.