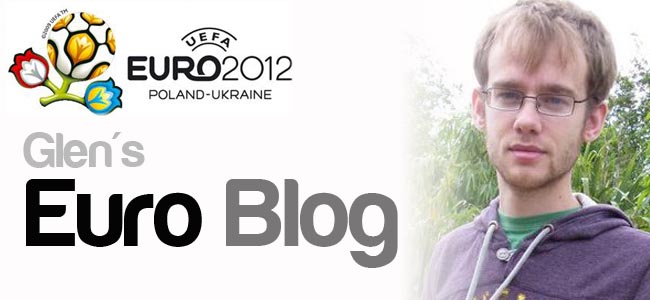 Aycliffe Today Sports Editor and Newton Aycliffe FC reporter Glen Robertson continues his daily Euro 2012 blog…
DAY ELEVEN REVIEW
Spain 1-0 Croatia
Italy 2-0 Ireland
Another tense and thrilling end to a group, as Spain and Italy just about progress to the quarter-finals.  But it could have been so different.
A last minute goal for Croatia would've knocked Italy out. Had Ivan Rakitic scored with his header from six yards out, with the game poised at 0-0, the reigning World and European champions would've been heading for an early exit.
And nobody would have begrudged Croatia the late goal. They were brilliant against Spain, with Luka Modric looking like a player worthy of taking on the likes of Xavi, Andres Iniesta, Xabi Alonso and Sergio Busquets. Surely he'll now be leaving Tottenham in the coming weeks.
Spain will need to improve if they're going to challenge the Germans to lift the trophy. They might have all that possession, but they lacked penetration against the Croats and it nearly cost them.
The Italians were not eye-catching in their win over Ireland. Goalkeeper Gianluigi Buffon was forced into a brilliant save to prevent the Irish – comfortably the poorest team in the tournament – drawing level.
But you can never count the Italians out, especially when there's a match-fixing scandal on-going in their country. Before the 1982 and 2006 World Cups the Italians were caught up in a scandal, yet went on to win the trophy. These things come in threes, right?
GROUP D FINALE
A nation expects. England fans went into the tournament with low expectations. Following the France game, the expectations were slightly higher. Then following the Sweden victory, coupled with Wayne Rooney's return – and people are talking about going all the way.
But let's get realistic. Sweden are not a vintage side and England struggled to beat them. If they can score twice past Joe Hart, so can Ukraine. England need to be better organised defensively, and hope Rooney, Danny Welbeck and Theo Walcott can cause damage further forward, if they're going to qualify for the next stage.
If England do win, they'll hope France drop points against Sweden in the other game as England will then play Italy instead of Spain in the quarter-finals.
Oh, and enjoy the game. There is a rest day tomorrow, so there won't be a game on. What ever will we do?!
PERMUTATIONS
France
Win and they top the group, unless England win and pass them on goal difference (currently one in France's favour). Draw and they qualify, as both England and Ukraine can't win. Lose and they'll still qualify, providing Ukraine don't beat England. It will then go down to goal difference between France and England for second spot.
England
Win and pass France on goal difference and England top the group. If they are level on goal difference and goals scored with France, England will top the group due to a higher UEFA coefficient. Draw and England qualify. Lose and they are out, unless France also lose and England have a superior goal difference.
Ukraine
Win and they qualify. They will top the group if France fail to beat Sweden. Draw or lose and they will be out.
Sweden
Already eliminated.
Bets of the Day:  Danny Welbeck first goalscorer 7/1
England and France to win 5/2