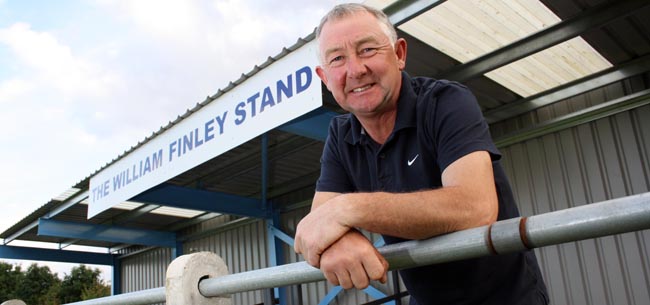 By Martin Walker
Newton Aycliffe chairman Allan Oliver says the opportunity to bring well-known Northern League manager Peter Dixon to the club was a "no brainer".
The Newtonians tonight officially confirmed the appointment of the former West Auckland boss as their new manager after their game against Shildon.
His first game in charge will be at home to Penrith on Wednesday night (7.45pm).
PETER DIXON APPOINTED AYCLIFFE BOSS
It represents an ambitious move by Aycliffe. Dixon was a much sought-after manager after leaving West in August and apparently turned down offers from four other clubs before opting to head to the Aux Audio Stadium at Moore Lane Park.
Oliver told Aycliffe Today: "To say we're delighted would be an understatement. He'll leave no stone unturned to get results.
"Peter didn't take a lot of persuading. He knew a bit about us, he was very impressed with the facilities and, more importantly, he was excited by the potential.
"This is a great opportunity for Newton Aycliffe Football Club, and will hopefully enable us to capture the imagination of the town and get the fans back through the gates."
Dixon's arrival will hopefully put an end to their rollercoaster journey of recent months.
Dan Mellanby took over the reins at the end of last season before stepping away in the summer, and Adrian Webster's tenure was short-lived.
Oliver admitted: "We felt like the club has stagnated. We've had a meteoric rise through the leagues, then we've hit a plateau, and for a season-and-a-half now we've gone very quiet.
"Given time, Peter will get a quality team together. It's about stabilising the club this season, consolidating and start winning games – and put smiles back on faces again."
Dixon twice guided West Auckland to the FA Carlsberg Vase final at Wembley, where they finished on the losing side to Dunston UTS in 2012 and Sholing in 2014, and also to within a whisker of the Northern League title two years ago.
Oliver added: "It wasn't that long ago that West Auckland were saying he's the best manager they've ever had, and if he has half as much success with us as he did with West, we'd be over the moon with that.
"To get a manager of Peter's calibre is a coup for us and we're delighted to have him on board.
"It will hopefully make a few people stand up and take notice of the club."
Click here to see our Video Interview with Dixon.