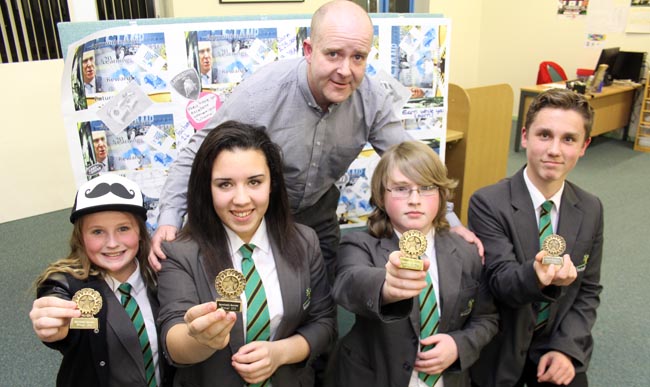 By Martin Walker
Gestamp Tallent won Woodham Academy's second annual Apprenticeship Awareness Programme after a closely-fought final presentation on Wednesday night.
Six high-profile businesses have spent the last nine weeks taking part in the successful scheme, which is part-funded by the Great Aycliffe and Middridge Partnership (GAMP), which brings education and business together.
Finley Structures, SWDT, A-Tech Fabrications, Ebac, Gestamp Tallent and the Bignall Group all started the programme back in September.
More than 100 year 9 students took part in a carousel of workshops, dubbed "speed networking", when the companies involved gave the youngsters a short insight into what they do.
The tutor groups were then allocated one firm which they will visit and get to know more about them and Apprenticeship opportunities.
After visiting the firm, businesses made several return visits to Woodham to help young people put together a presentation, which were delivered during a special evening on Wednesday.
Tallent's team won it, with the main presentation being made by Jaydene Chappell, Yasmine Hynes, Adam Byrne and Ryan Harris, helped by David Pearson from Tallent.
In a special Video Feature, head teacher Christine Forsyth told Aycliffe Today: "It's great that children have had the opportunity to go and see businesses first hand and find out what opportunities are out there.
"It's also been a real pleasure to have local firms working with our young people. I think they've learned a lot about what schools do."
Adam White, from GAMP, added: "We saw six fantastic presentations, each and every one of them covered all the main topics.
"They were a credit to the school, and hopefully they all gained an insight into Apprenticeships in our local area."