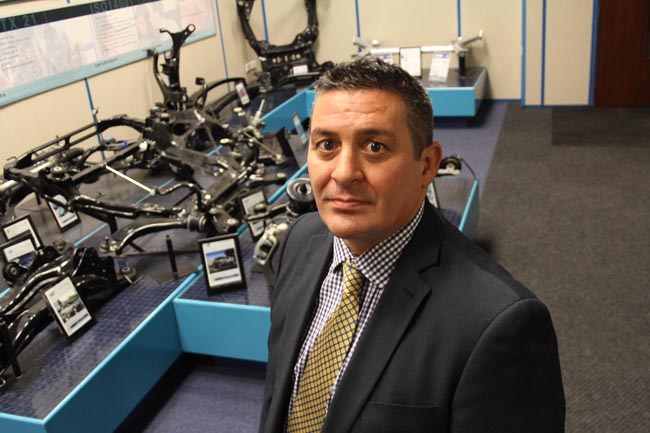 In a rare media opportunity, Gestamp Tallent's Plant Director PETER GALLONE talks to Aycliffe Today Business editor MARTIN WALKER about recent successes and its plans for the future…
Gestamp Tallent is Aycliffe Business Park's biggest success story.
The company has grown hugely in the last three years, increasing turnover, output and staff numbers, to record levels.
The manufacturer of car chassis components has also invested heavily during those years and has plans to continue this investment over the next three years.
Turnover is expected to increase by 16% in 2015 with a further 12% increase by 2017.
The number of employees has grown from 1,200 at the start of 2014 and will grow further by 2018, with hopefully an additional 150 jobs over the next four years.
It's a formidable story which makes Gestamp Tallent Aycliffe Business Park's marque name.
"We certainly have a strong story to tell at the moment," Plant Director Peter Gallone told us.
"We're investing in a new press shop with two new press facilities and a new training centre.
"It will take our total recent investment to £110m in six years, which takes this plant into the next decade as we invest in our futures.
"So that's good news for Newton Aycliffe, and it's good news for the people working here.
"We want to have a site that will exceed expectations and a plant that we're all proud of."
The original company was formed in 1948 by Roy Tallent and it manufactured fancy goods and traded under the name of Roy Tallent (Plating) Limited.
In 1955 the Colston Family took ownership and its product range extended to domestic appliances, paraffin heaters, washing machines, cooker hobs, microwaves and gas fire cases.
In 1988 the company underwent a management buyout by three directors and set a strategy to become a global automotive supplier of chassis structural products.
Since then the company has made significant improvements, going from a copy part supplier to a designer, developer and manufacturer of chassis structural products.
In 1992 the company was bought by the German steel group Thyssen AG. Thyssen AG then merged with Krupp in 2001 creating ThyssenKrupp. In July 2011 ThyssenKrupp sold its interest in Tallent, and Spanish automotive supplier Gestamp bought not only the Aycliffe site but also the ThyssenKrupp European metal forming operations.
During the ThyssenKrupp ownership the Company helped to establish plants in North America, India, China and Turkey, plants which are now owned by Gestamp and complemented by over 90 other plants worldwide.
Five of those are in the UK, including sites at Cannock in Birmingham, Fareham on the South coast, Llanelli in Wales and Washington, as well as its biggest UK site in Newton Aycliffe.
In 2012, an additional 15,000 square metre building – plant 5 – was added to the Aycliffe site to support growth.
Gestamp Tallent works with many of the leading Western European vehicle manufacturers with over 60% of components manufactured in Aycliffe exported.
"We are doing well, but we are also in a very difficult and competitive market, so we need to fight to keep current and new business manufactured in the UK, in Aycliffe. To do this we rely heavily on the strength our employees. We need a motivated, flexible, realistic and engaged workforce and this is something we are constantly working to tune and improve." added Mr Gallone.
UK Finance Director Kevin Heyhurst told us. "Costs are always increasing and depreciation of assets continues to increase, more so as we continue to invest in production lines and other equipment.
"To maintain our competitiveness and give the customer innovative solutions to their desire for lower weight and increased safety we always have to invest money in future projects. This is done both in terms of assembly lines and strategic assets such as heavy presses.
"We continually invest in our people and training is a very key part of that, both on the job as well as in a classroom environment, so when the opportunity to move onto the former Sanyo site came along, we had the idea to set up a new training facility – the Tallent Academy."
The £1.3m investment in the Tallent Academy will transform the former Sanyo site into a state-of-the-art training facility which will not only train Gestamp's workforce of the future, but will also help them to develop their existing staff.
Meanwhile, the Pressing Plant development will transform the oldest part of the Gestamp site into a modern production facility with more efficient presses which will further increase capacity and sustain and create future jobs.
More details about Gestamp Tallent's plans for the future – including the Tallent Academy – will appear in future editions of Aycliffe Today Business.