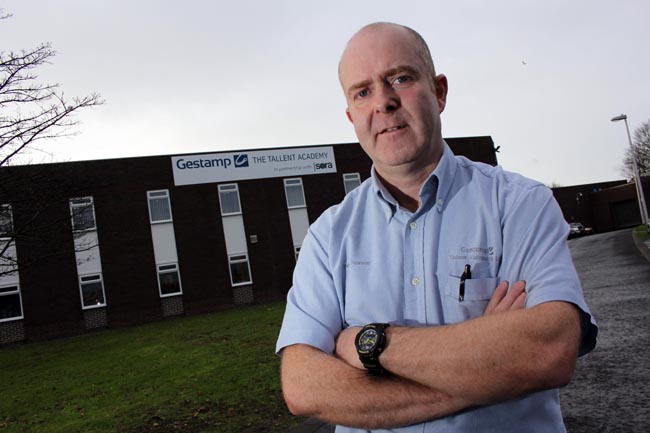 EXCLUSIVE: By Martin Walker
Gestamp Tallent has completed a major redevelopment of the former Sanyo site on Aycliffe Business Park – transforming the derelict building into a state-of-the-art training facility.
Newton Aycliffe's biggest firm has invested heavily in completely rejuvenating the area and expanding its site across St Cuthbert's Way.
Part of the site will be used for manufacturing, but a huge chunk of it is now home to the Gestamp Tallent Academy – the company's own Centre of Excellence for plant training needs.
Its purpose-built training centre will develop existing staff and Apprentices and will also be used for staff presentations.
It's yet another example of Gestamp Tallent's commitment to Newton Aycliffe and its people, in creating employment and nurturing the engineers of tomorrow.
Training Controller David Pearson (pictured above), who served his time in the company's tool room, told Aycliffe Today: "The ground floor will be very much an industrial-based training centre so we can utilise the robots we have there.
"There will be an Apprentice development centre within the building; here we can expand on the basic engineering knowledge they have gained while at college by focussing on hand skills, drawing electronics and electrical in a safe environment.
"Equally we'll also be very close to the production area of the plant, meaning we can give people real experience in a real environment, but without impacting on production.
"The first floor will be an executive centre, very much a classroom environment, with a focus on management and people development. We have a dedicated IT suite that employees can use and we'll have state-of-the-art facilities to give staff presentations in a much nicer environment.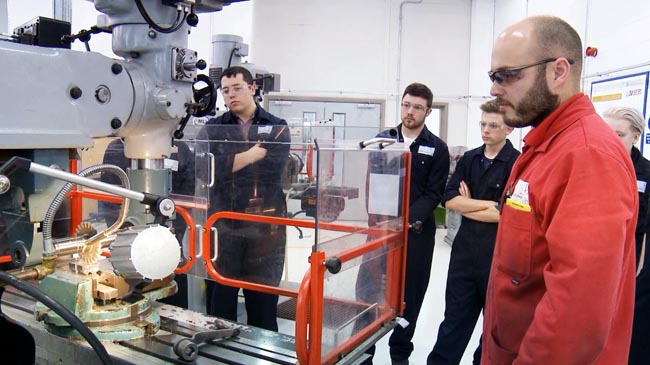 Gestamp Tallent Apprentices are shown the ropes (above).
"We've also teamed up with an external partner who we've worked with for a number of years, Sora Group, who'll be working closely with us to make sure all of the programmes within the plant can be referenced against nationally-recognised qualifications.
"In three to four years time I'd like to see the wider business community on Aycliffe Business Park and key parts of our supply chain wanting to come and see this facility and see how it can benefit their business. Long term we'll need it to justify itself and pay its own way."
David admits he was excited when Plant Director Peter Gallone offered him the site to relocate the company's training centre.
He explains: "We've had an internal training centre since the late 1990s in various guises around the site. But as much as the company has evolved over the years, so has the training centre and we've had to move around a few times.
"We were lucky in that the company identified Plant 6, and three quarters of the building was just going to be left undeveloped and boarded up. But then they saw the potential of moving the training centre over there.
"Peter called me one morning last April and asked me to pop over. He said he had a proposal for me. He showed me the building, which was a completely derelict, and asked me about moving our training centre there and creating the Tallent Academy.
"I said 'absolutely!'. From my point of view, it was the best option available
"Since then a lot of work and investment has gone into developing the centre to get it to the stage it is today. The landscaping has been tidied up and the frontage is looking a lot nicer.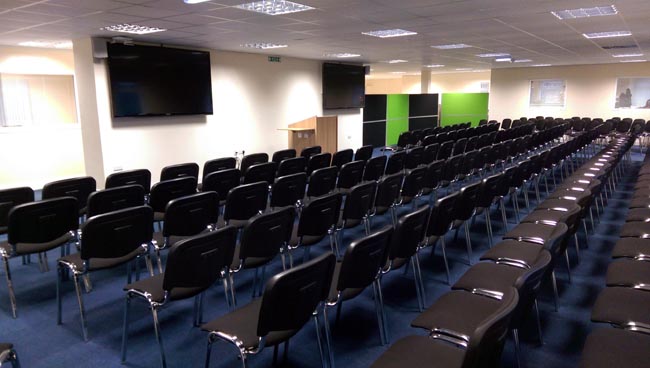 The new seminar room within the Gestamp Tallent Academy.
"And the training centre, from being derelict at the end of April, has completely changed.
"It is now fully furnished and kitted out with state-of-the-art equipment including training robots and LED TVs for presentations as well as IT suites and boardrooms for meetings.
"Ultimately we can open up the courses to other businesses and the aim is it will become a self-financing centre of excellence that isn't a drain on resources."
David is passionate about Apprenticeships, having served his time with the company through neighbouring South West Durham Training.
Gestamp Tallent takes on at least eight new Apprentices every year – usually four tool makers and four maintenance Apprentices – but in recent years has taken on as many as 16 a year. The firm currently has 54 Apprentices on its books.
Gestamp Tallent also works closely with Woodham Academy, running a successful Apprentice Challenge competition, run very much like the hit TV show Apprentice, which involves the winner being offered an Apprenticeship, and the company also takes part in Woodham's annual Apprenticeship Awareness Programme working with year 9 students.
David adds: "We invest heavily in our Apprentices and their programmes and all of our Apprentices are expected to gain a HNC qualification as a minimum."
But David feels more work can be done to encourage more young people to take the Apprenticeship route.
"A lot is being done to improve the image of Apprenticeships within schools, but I'm hard to please and I think more can be done," he says.
"We need to recruit a high calibre of staff, so we want to be able to recruit talented people from an early age, before they decide to go to college and university, so we want to educate them from year 8 and 9.
"Apprentices can go on to have fantastic careers. A large proportion of our senior managers and engineers have completed Apprenticeships with the company.
"As an example our Plant Manager in the assembly areas is a former Maintenance Apprentice and has worked his way up and four of our design engineers were Apprentices.
"Most of the manufacturing engineering staff came from the firm's Apprenticeship programme – we don't recruit an engineer without a time-served background.
"Indeed, Bernard Robinson, who became Managing Director in the 1980s started as a tool room Apprentice. He was named North-East Businessman of the Year in the 1990s and was awarded an MBE for service to business.
"You won't find a more vocal supporter of Apprenticeships than me, and I think we're leading the way when it comes to training our young engineers.
"This investment in the Gestamp Tallent Academy will support the development of our Apprentices along with enabling us to develop our entire workforce and perhaps supply chain to ensure we meet the demands of the business and keep us at the forefront of modern technology."