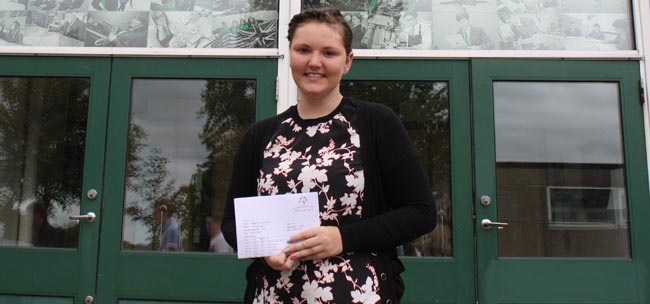 Amidst the celebrations at Woodham Academy on GCSE results day, there were tears of joy for one student and her mother.
Kimberley Hall nervously opened her envelope to find that she'd passed every subject, with grade As in English, English Literature and History.
Two years ago, Kimberley was diagnosed with cancer. She spent a full year undergoing treatment and was too ill to attend school throughout the whole of Year 10.
Having been given the all clear by her doctors, Kimberley returned to Woodham Academy at the start of Year 11.
Not yet strong enough to cope with a full school day, Kimberley attended lessons in the school's Learning Centre.
Amazingly, she managed to complete the two-year GCSE course in one year, achieving a first-class set of results.
Kimberley is now able to fulfil her ambition to take A levels in Sciences and History at Queen Elizabeth Sixth Form College in Darlington.
After this, she hopes to realise her childhood dream of becoming a nurse.
Kimberley said: "I would like to thank everyone who has helped and supported me over the last two years."
Her mother, Chris, added: "I'm so proud of her and what she has achieved."