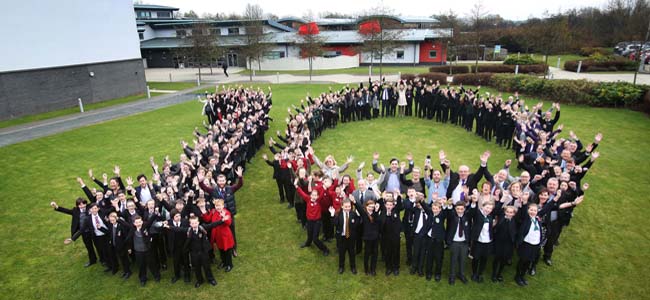 By Martin Walker
The Future Business Magnates competition has entered its tenth year, with competitors all set to do battle!
Business Durham took ownership of Future Business Magnates five years ago, and the 2014-15 competition will be FBM's 10th anniversary.
The Xcel Centre played host to the launch of this special year in November, when schools were paired up with their businesses.
Durham County Council chairman and Mayor of Durham City, John Robinson, told guests: "I've been to two of the awards dinners and I'd say it's the most important competition in County Durham for adults, children and businesses alike.
"I was privileged to see the finals earlier in the year and some of the fantastic ideas the students came up with.
"I'm delighted that we're here again at the beginning of an exciting FBM journey.
"I'm very, very passionate about the importance of the competition and its affect on young people.
"This year is going to be extra special as we celebrate the 10th anniversary of FBM, and I'd like to wish all involved every success."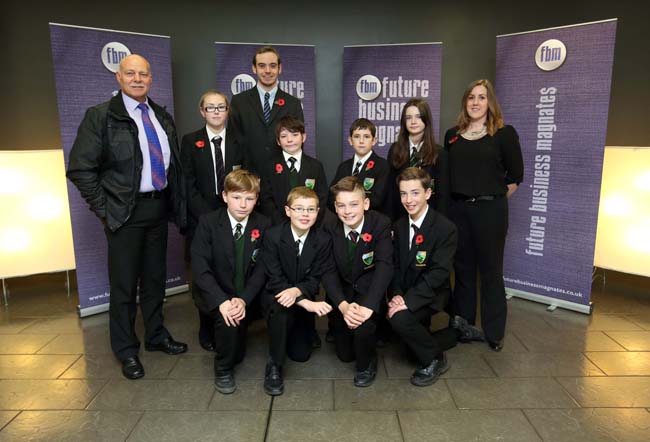 Greenfield Community College with IES.
A new theme for this year's FBM was also revealed.
Sarah Slaven, Business Development Director at Business Durham said: "The theme for this year's competition has been inspired by the forthcoming International Year of Light 2015, and the increasing cluster of businesses in County Durham that are involved in the science of light, imaging, optics and photonics.
"With the theme of 'Discovering, Detecting, Developing a Different Use of Light', we're challenging the FBM teams to come up with a business idea based on a new use of light, and we can't wait to see what they come up with."
Hitachi Rail Europe has become involved from the off, entering two teams as their staff were partnered with Sedgefield Community College and Aycliffe's own Woodham Academy.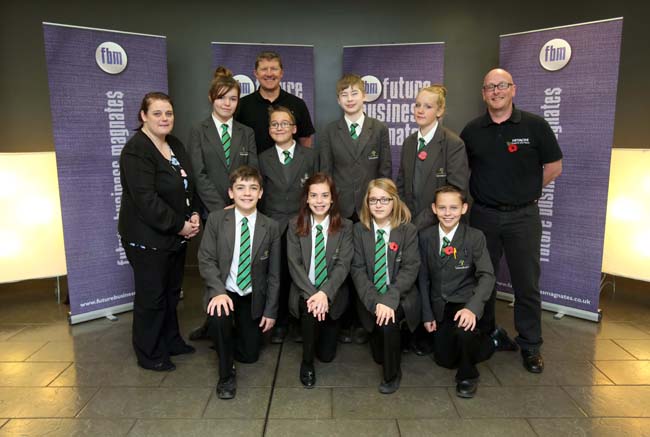 Woodham Academy were paired with Hitachi Rail Europe.
Ebac also entered two teams, with the firm's new Norfrost brand being paired with Bishop Barrington School, and Ebac being paired with Wellfield Community School.
"I think it is really important for local business and schools to know and understand each other, from the head teacher and owner/MD to the teachers and managers to the students and staff," said Ebac Managing Director Pamela Petty.
"It's tremendous to see a group of students that at the start have nothing in common other than attending the same school make the transition into a slick team, all working towards a shared goal. Just like in the world of work!"
Our other school, Greenfield Community College, was partnered with Aycliffe firm Inspection & Engineering Services (IES) – both winners last year. Greenfield won best team and IES came third overall.
"The competition is invaluable," said Greenfield's core leader on the group this year, ICT teacher Simon Tait.
"The students can have a contact in the real world and see how things work, and the businesses can come and see what we're doing in school and to have that interaction with the students, it makes it all gel together."
IES boss Trevor Forsyth added: "I think it's massively important for businesses to get involved in things like this, as well as hugely rewarding.
"Some of these kids have some great ideas. It won't lead to business for all of them, but it may well instigate something within them to push forward in school or later on in life."
Meanwhile, Gregg Little Testing Centre was paired with St John's School, Bishop Auckland.
More about FBM can be found at www.futurebusinessmagnates.co.uk
(Pictures by Lee Dobson)
THE COMPETITORS
Barnard Castle School: High Impact Development
Belmont Community School: Waterstons
Bishop Barrington School: Norfrost at Ebac
Consett Academy: Derwentside Environmental Testing
Dene Community School: Pepsico
Durham Johnston: Exposure Events
Durham School: Brambledown Landscape Services
Durham High School for Girls: Blue Sky Think
Ferryhill Business & Enterprise College: Thorn Lighting
Framwellgate School: Inter-line North East
Greenfield Community College: Inspection & Engineering Services (IES)
North Durham Academy: Simpson Bros
Park View School: Steelcraft
Seaham School of Technology: Plug & Play Marketing Solutions
Sedgefield Community College: Hitachi Rail Europe
St Bede's School, Lanchester: Profound Services
St John's Bishop: Gregg Little Testing Centre
St Leonard's Catholic School: The Esh Group
Sunnydale Community College: Create City
Tanfield School: Dyer Engineering
Teesdale School: GSK
Wellfield Community School: Ebac
Whitworth Park School: Holiday Inn Darlington North
Woodham Academy: Hitachi Rail Europe