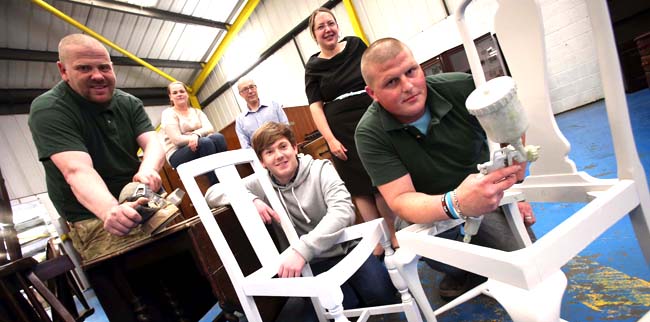 Turning old furniture from shabby to chic is the hallmark of an enterprising charity in County Durham.
Volunteers mix traditional woodworking skills with modern techniques to transform sofas, tables, chairs and other items into bespoke pieces to be sold at low cost to homes in need of furniture.
It is all done by the County Durham Furniture Help Scheme (CDFHS) in Chilton, one of seven charities who make-up the County Durham Reuse Forum supported by Durham County Council.
Ruth Smith, external project officer for strategic waste management, Durham County Council, said: The shabby chic project is a unique and exciting of rejuvenating unwanted items. Donating furniture not only enables charities to sell good quality furniture at low cost but also reduces waste and provides a range of training and volunteering opportunities for people to get back into work"
Most charities in the Forum collect household items free of charge if they are in good condition and re-usable
To find out more about the Shabby Chic project please contact County Durham Furniture Help Scheme, on telephone: 01388 721 509.
For further details on all furniture reuse schemes visit www.durham.gov.uk/reuse or call Durham County Council's Strategic Waste Management team on 03000 261 000.