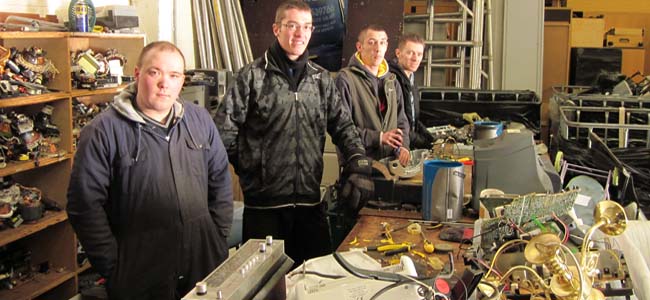 Young people are being given a boost in the training stakes thanks to a new furniture help scheme being supported by the 4 Together Partnership.
The 4 Together Partnership is one of 14 Area Action Partnerships (AAPs) set up by Durham County Council in 2009. AAPs work with the council and its partners, local councillors and members of the public to address issues specific to that area.
One of the issues raised with the partnership was a lack of support for young people and those wanting to improve their chances of getting back into work.
The partnership decided to allocate £19,000 to the County Durham Furniture Help Scheme to provide up to 100 places for work experience in their warehouses.
The furniture scheme has an excellent reputation for assisting disadvantaged young people into work or training courses.
The project, based in Chilton, began in January and Steve Mitton, training and employment coordinator, said: "Since Christmas we have already taken on 22 trainees.
"We help them to write CVs, prepare for interviews and give them hints on job searches. We also contribute to Durham County Council's recycling targets and provide the people of this area, who might be going through bad times, with furniture and other household items.
"Our links with other training providers and within the industry mean that we have a good track record of getting young people in particular prepared for the world of work."
The scheme offers practical experience in working in a re-cycling centre as well as office work, collection and delivery duties, administration and customer service experience.
The funding will be used to focus on 18 to 24-year-olds who are unemployed and young offenders.
For more information on the AAP or to find out how to become a member of the 4
Together Partnership Forum please contact Robert McMullen.
Tel: 0191 3833000
Email: [email protected]
To find out more about the scheme contact Steve Milton on: 01388 721509.
Pictured are: Nathan Blakey, Peter Rowland, Michael Stoddart and Chris Hastead.