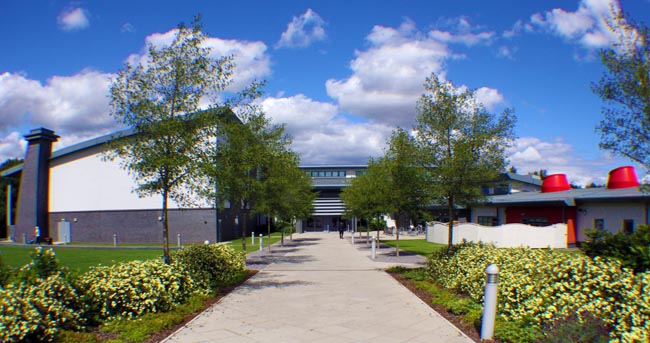 By Martin Walker
A free marketing summit for the region, which will enable firms to gain valuable information and advice about inbound marketing, is being organised at Aycliffe Business Park this week.
Newton Aycliffe company thrive is bringing industry experts from the world of digital marketing to the Xcel Centre on Friday (6th June).
The event is to celebrate International Inbound Week, and to bring together businesses and marketers to educate attendees about digital marketing and lead generation.
Speakers for the event include Nevil Tynemouth, Mike Lever, Morgan Stephenson and Chris Stainthorpe, as well as thrive director Rachel Townsend Green.
Nevil is a sales speaker, coach and trainer. He launched two of the UK's most familiar brands in Dyson and BlackBerry and has worked as part of FTSE100 companies management teams for over a decade and in sales for 25 years.
Mike is the current British Sales Trainer of the Year and, as well as working alongside Nevil, runs the North-East Regional Group for the Institute of Sales and Marketing Management. He has worked in and with well-known household brands for over 20 years and is a member of Toastmasters International.
Chris is co-founder of Newcastle-based CustomerSure (an online solution which boosts sales and improves customer retention), having built the infrastructure, server-side and front-end of the firm from scratch as part of a team of three. He previously worked as a senior developer in the ad industry.
Morgan and his team at ht Media have a proven track record in providing high quality digital media to clients, engaging businesses and delivering messages locally and globally.
Attendees will have an opportunity to collaborate and network with peers and the guest speakers, while learning about the challenges, opportunities and benefits that businesses face though a series of presentations and Q&A sessions.
Rachel said: "Content delivered will cover topics that are most important to businesses, all aimed at helping them to make the most appropriate and beneficial decisions for their organisations.
"The overall objective of the event is to deliver useful, applicable content, provide excellent networking opportunities and deliver 'take aways' that can be effectively implemented into businesses for immediate effect."
Rachel says inbound marketing methodology is the best way to turn strangers into customers.
"Marketing has evolved so much now," she adds. "Instead of interruptive, traditional outbound methods, inbound focuses on creating quality content that pulls people towards your company and product by aligning the content you publish with their interests and needs.
"By publishing the right content, in the right place, at the right time, your marketing becomes relevant and helpful to your marketplace and potential customers, not interruptive."
Rachel launched thrive with co-director Johnny Woods earlier this year, merging their two media companies – Au Fait Marketing and Echo Graphics – to create a nine-man digital team at their HUB Workspace offices.
She's also a member of the Aycliffe Business Park Community (ABPC) steering group and is heading up the 'promotion' task group as part of ABPC's 'Shaping The Future' exercise in conjunction with Business Durham.
"I'm passionate about marketing and I'm very passionate about Aycliffe Business Park," says Rachel.
"Some might think it would have been more beneficial for us to hold an event of this stature in Newcastle, which obviously has a higher density of large businesses and blue chip companies.
"But Aycliffe Business Park is ideally located for guests to come from Newcastle, Sunderland, Durham, Darlington, Teesside and North Yorkshire.
"There's also a strong collaborative and community-based culture already present on ABP and we feel this would provide an opportunity for enhanced 'external' networking opportunities.
"The Xcel Centre is also a prime venue for an event like this. It's excellently-equipped to deliver and manage the event with state-of-the-art facilities, catering and parking."
Afternoon tea with cakes will also be provided at thrive's Inbound Marketing Summit, which is sponsored by Business Durham, Teesside University, Digital City and the South Durham Enterprise Agency.
● You can register for the event via Eventbrite, thrive's various social media streams or by contacting the thrive team on '[email protected]' / 0845 838 7517.