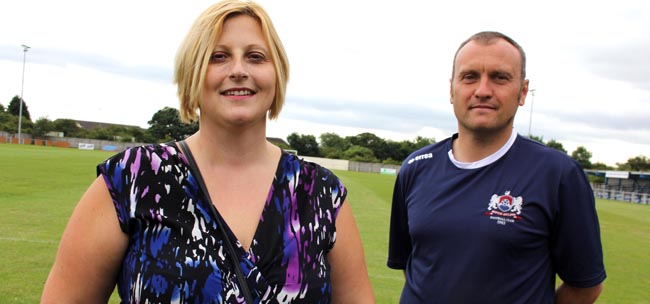 By Martin Walker
A special annual football fixture will be played this weekend, raising money for the fight against cancer.
Newton Aycliffe FC have teamed up with Great Aycliffe Cancer Support Group, which has been set up to help anyone that is or has been affected by cancer.
And the Northern League club's annual friendly with Northallerton Town, to be played at Moore Lane Park on Saturday (3pm kick-off), will help to raise funds for the special cause.
The club's manager Dan Mellanby, pictured above with Allison White, who has set up the Aycliffe Support Group, said: "Frank's name will always live on at this club, he was a special man, and he'd be chuffed to bits to see us playing this annual game in his name.
"Cancer has touched just about everyone at some point, but everyone here at the club thought so much of Frankie, we're just doing our bit to raise some much-needed funds in the fight against the disease.
"Proceeds from Saturday's game will be split between the Aycliffe Support Group and Macmillan, a charity which cared for Frankie during his illness.
"It's a special game for us and we'd love to see a big turnout."
The Aycliffe Cancer Support Group provides advice and support and if they can't help then they signpost them to the right people.
Read more about them here.
Aycliffe's pre-season friendly with Northallerton on Saturday kicks off at 3pm.