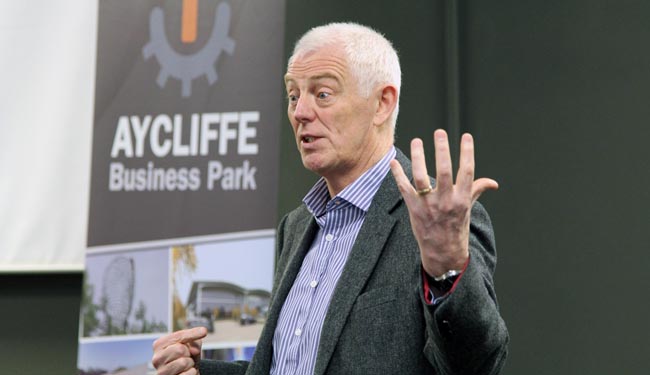 By Martin Walker
Former Gestamp Tallent boss David Land is heading up a new engineering University Technical College (UTC) for the region, with building of the Aycliffe-based facility due to start in August.
Mr Land, who recently left Newton Aycliffe car parts maker Gestamp which is sponsoring the UTC, is working with the University of Sunderland on engaging with local companies.
He revealed a number of new developments for the UTC at a meeting of the Aycliffe Business Park Community this week.
Click here to see our Video Interview with Mr Land
A head teacher for the UTC has now been appointed – he is expected to be revealed in an announcement by the university in the next few weeks – while planning for the £10m skills college will be submitted to Durham County Council this month.
The Government confirmed in March it had approved funding for the South Durham UTC, the North East's first University Technical College, which will open next year.
The college, which will be built at Long Tens Way on Aycliffe Business Park, will offer 600 places to 14 to 19-year-olds in the North East which would specialise in advanced manufacturing and engineering.
Mr Land, who was engineering director at Gestamp until recently, said: "The UTC is something that, from a manufacturing perspective, I was really keen to get engaged with.
"We've had problems in the past trying to get young people into engineering and manufacturing-based subjects.
"It's difficult to break the current curriculums in standard schools, so the UTC was the ideal opportunity where we could put that engineering strategy into the curriculum from day one and build that whole ethos around it.
"So I made a commitment, when I left Gestamp, to work the university and help them to engage with businesses and make sure we get that right from the beginning."
Mr Land also said the UTC has an opportunity to use the growth of Aycliffe Business Park as a tool to get more schoolchildren interested in engineering and manufacturing.
He said: "Aycliffe Business Park is the largest manufacturing area in the region, it's growing with Hitachi Rail Europe and all the other developments.
"We've got some really good companies on the business park which do some really clever stuff, and I think that's a great way of encouraging young people into engineering and manufacturing."
A new head is expected to be announced in the coming weeks, and Mr Land added: "We're really pleased because we don't just have a head teacher, but we have someone with a manufacturing background and someone who's passionate about achieving the same objectives that we are.
"We're expecting planning permission to go in this month, fingers crossed, and then if approved we're due to start construction in August, so the development is really starting to kick on now."
Click here to see our Video Interview with Mr Land