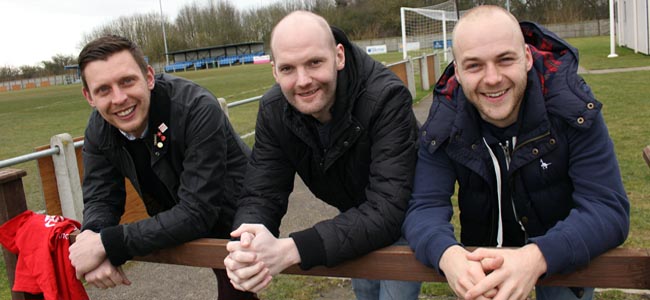 Two former Newton Aycliffe captains will swap the pitch for the dugout later this year when they take charge of respective Newtonian XI's to raise money for Leukaemia and Lymphoma Research.
Sean Tarling (pictured above, right) and John Close (above left) will select from a pool of current and ex-Newtonians in the charity game which will also act as a celebration of Aycliffe's five year tenure in the Northern League, dating back to August last year.
Several players have already signed up to take part in the charity game, which will take place at Moore Lane Park on Saturday 2nd May, while former Chairman and Assistant Manager Gary Farley has agreed to referee proceedings.
Click here to see our Video Feature
The match is the brainchild of former Aycliffe committee person Paul McGeary (above centre), 33, who was diagnosed with Leukaemia in November last year. Paul's #NotOneInch campaign has already raised almost £6k for charity as he aims to raise £10k by the end of 2015.
Paul said: "The game was always something that has been in the back of my mind since the club was first promoted to the Northern League but through one thing or another it never got off the ground last summer.
"With the fundraising push in mind, I decided to resurrect the idea and when I approached Sean and John they were only too happy to be involved.
"The reaction from the small group of players who I have asked to take part has been overwhelming.
"I urge anyone who has played for the club from the Wearside League season, right through to the current day to get in touch and add their name to the pool of players, regardless of whether you played one game or 100 games for the club.
"Lads who are unable to play for whatever reason are encouraged to support the day, as are supporters either active or lapsed, as it is a celebration of how far the club has come in recent years."
The game will kick off at 12.30pm on Saturday 2nd May 2015, with admission by donation to Paul's chosen charity Leukaemia and Lymphoma Research.
Former players can contact Paul on 07703732342 to express their interest in taking part on the day.