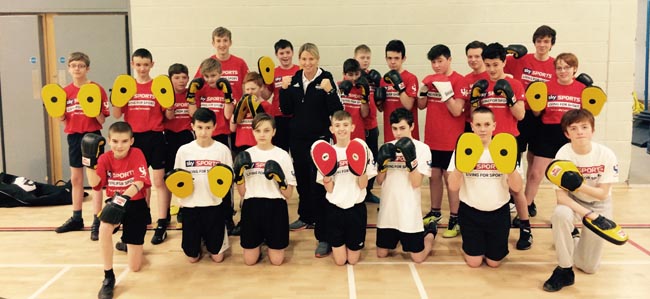 Former Great Britain boxing champion Amanda Coulson visited Greenfield Community College to work with Mr Butterworth's Year 8 boys PE group last week.
The retired boxer's loyalty visit coincided with an initiative, Sky Sports Living for Sport, that Greenfield Community College have signed up to for the fifth year in a row that uses sport as a tool to motivate and inspire 11-16 year olds.
It proved to be a fantastic opportunity for the Greenfield students as it isn't everyday they get to interact with one of Britain's leading female sports stars.
She is a gifted and exciting fighter who spent almost a decade at the top of the women's national and international boxing scene – and is now a GB boxing coach.
The first hour consisted of a theory-based session focusing on Amanda's story and Sky Sports Living for Sport '6 key skills to success' message.
Within the next lesson, Amanda and the pupils planned a boxing circuit that built upon previous fitness work completed by the students in the weeks leading up to her visit.
"It was evident that when the pupils took part in the boxing circuit that they had impeccable attitudes and worked incredibly hard pushing their bodies to the limit," said the school.
"Our students enjoyed the new element of boxing within their fitness work, and were keen to learn new skills associated with the sport."
At the end of the session they were asked to set targets in relation to the '6 key skills to success' and focus on improving a couple of these in the coming months which would impact upon their future achievements.