A former apprentice at a Newton Aycliffe training provider has returned to take over the reins as chief executive.
After leaving school, Lee Childs joined Black & Decker in Spennymoor as an engineering apprentice and spent his first three months learning basic skills at South West Durham Training on Aycliffe Business Park.
Now, 16 years later, he has returned to take over as chief executive from Trevor Alley, who has retired after a successful two years at the helm which saw SWDT named one of the highest performing engineering training providers in the country.
Lee completed his formal engineering qualifications at Darlington College and Northumbria University and, after six years at Black & Decker, he enrolled on a teaching course at Darlington College which led to a nine-year career with the college, during which Lee was promoted to overall head of engineering and automotive technology.
Forging fresh links with SWDT, Lee jointly developed new apprenticeship frameworks which led to new partnerships with some of the region's biggest employers, including 3M, Glaxo, Cummins and Hitachi.
Lee, from Shildon, said: "I am an engineer – that's my background, that's what I trained as – and I'm very passionate about apprenticeship training and vocational skills. High quality apprenticeships are an absolute must for the future success of manufacturing and engineering in the country; we need to invest in the training of young people.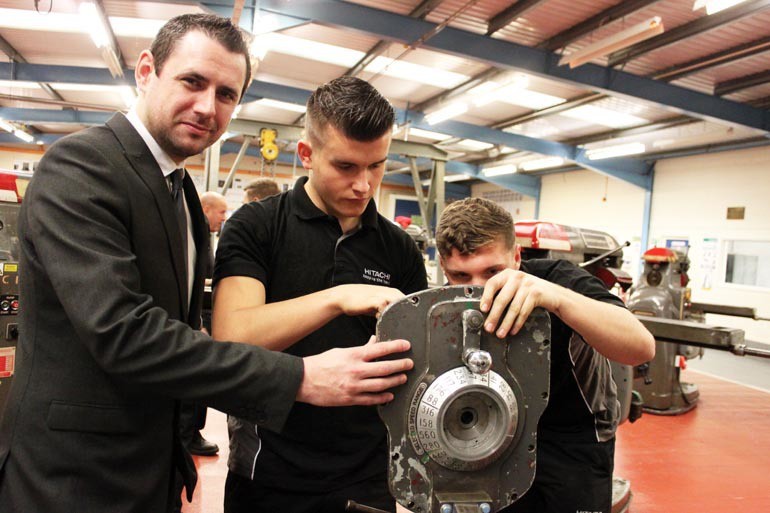 "Our trainees are equally passionate – they come here to secure jobs and we want to get them all into employment while providing the training services our employers need."
In July 2014 SWDT received an 'Outstanding' Ofsted report, receiving the top grade in all four categories: overall effectiveness; outcomes for learners; quality of teaching, learning and assessment; and effectiveness of leadership and management.
Bishop Auckland College and SWDT announced a new partnership last year which saw SWDT become a subsidiary of the college while continuing to trade under its own brand as a separate registered charity.
New joint initiatives include a commercial gas centre offering training for the Gas Safe Register for the domestic and industrial markets, an electrical installation centre offering training in Part P testing, and a new Level 3 plumbing course.
Lee added: "South West Durham Training is in a solid position and we are looking forward to more good results this year.
"Moving forward the intention is to consolidate the (Ofsted) Grade 1 status of the training centre in terms of success rates and outcomes for our learners, and work in partnership with local employers to ensure we continue to meet their emerging training needs."
Last month the centre, which employs 27 staff and has over 100 trainees, welcomed new apprentices from Hitachi, Cummins, Glaxo, 3M, Cleveland Bridge and Nifco. All are on engineering/manufacturing programmes with bespoke elements required by their employer, including hydraulics, pneumatics, electrical, fabrication and welding.
The Government has set a target of creating three million new apprenticeships by 2020 in a bid to boost skills and end youth unemployment.
Welcoming Lee Childs' appointment, SWDT chairman Andy Dunn, general manager of engineering at Nifco UK in Stockton, said: "His vast engineering experience is underpinned by a huge passion for apprenticeships and skills development; it is this combination which will see him continue to build on the great achievements of the centre to date. As an added extra, he is from the local area with an apprenticeship background of his own – Lee is someone that our young people will really be able to resonate with; a great choice as successor to Trevor Alley."
SWDT was founded in 1967 to provide training for local manufacturing and engineering companies and today offers a wide range of courses including electrical safety, hydraulics, pneumatics, welding, turning, forklift operation, advanced CNC, NEBOSH, PAT, first aid at work and working at heights.
The training offer includes apprenticeships and advanced apprenticeships in mechanical & electrical engineering, toolmaking, and fabrication & welding. Commercial short courses range from half day to six days, and the BTEC 1st Certificate/Diploma and Dual Award GCSE in Engineering for Year 10 and Year 11 students is delivered in a dedicated schools workshop and computer facility.
In 2011 its £3.6m manufacturing and product design training centre, offering state-of-the-art facilities for students and employers, was opened. High tech equipment includes 3D laser scanners, laser cutters, rapid prototyping machines, routers, highly automated and flexible manufacturing systems, CNC lathes and millers, floor standing pillar drills and an industrial process control station.
For more information on SWDT visit www.southwestdurham.co.uk