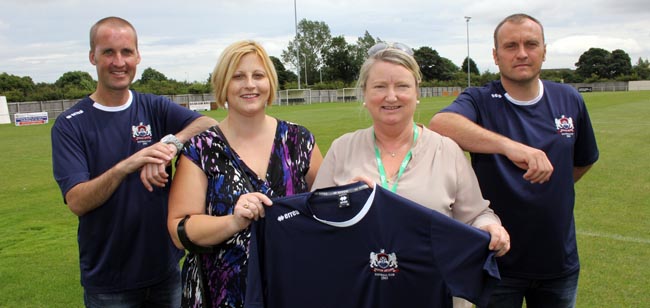 By Martin Walker
Newton Aycliffe Football Club have revealed a new partnership with a fledgling cancer support group on the town.
The town's Northern League club is teaming up with Great Aycliffe Cancer Support Group, which has been set up to help anyone that is or has been affected by cancer.
It has been set up by Newtonian Allison White, a former school friend of Aycliffe boss Dan Mellanby – they're both pictured above with Aycliffe General Manager Dan Lewis (left) and Michelle Muir, Macmillan's fundraising manager for County Durham.
Aycliffe will now help to raise awareness for the group, while their annual Frank Swinburne Memorial Trophy friendly against Northallerton Town next week will help to raise much-needed funds.
The Aycliffe Cancer Support Group provides advice and support and if they can't help then they signpost them to the right people.
Allison said: "Each month we have a guest speaker who will pass on information relevant to their profession.
"We have had someone from Macmillan Welfare Rights who helps people financially also someone from a Befriending Service but we are also having a dietician come as well as a Macmillan Nurse plus many more.
"We are trying to raise funds so the group can do activities such as day trips or just going for lunch.
"This helps the patient from feeling alone and also gives them the confidence back. It also helps them to make friends so they are not facing cancer alone"
Aycliffe's game against Northallerton at Moore Lane Park, on Saturday 26th July (3pm), is now an annual fixture in memory of club stalwart Frank Swinburne, who himself lost his battle with cancer last year.
The club's Chairman Allan Oliver said: "I am sure most of us know someone who has been touched by cancer.
"We are delighted to be able to help raise awareness for this invaluable resource for the people of Aycliffe."
Members of the Aycliffe Cancer Support Group will be present at the Northallerton game should anyone wish to approach them for more information. They will also have a bucket collection to help raise funds for the group.
All proceeds from the gate receipts on the day will be split between Macmillan and the Great Aycliffe Support Group, so Aycliffe are hoping to see a good crowd turn out to remember a club legend, and to take the opportunity to see the team in home action for the first time this season and most importantly to raise funds for two great causes.
For people unable to make the game, the Great Aycliffe Cancer Support Group is held on the first Thursday of every month, at Neville Parade Community Centre, starting from 6pm until 7.30pm. For details contact Allison White on 07762 258696.