Newton Aycliffe FC and Newton Aycliffe Junior FC are delighted to jointly announce that both clubs will be merging from the 2020-21 playing season.
The merger sees Newton Aycliffe FC, which currently plays in the Ebac Northern League Division One, combine with a Junior Club which boasts 15 teams and around 200 members at age groups 4-17.
By combining, the new club gives young players a clear pathway from junior football into the FA's National League System.
The clubs launched their merger at Aycliffe's game against Thornaby on Saturday.
Aycliffe has operated from its site in Moore Lane, now known as The Beaumont Landscapes Stadium, for over 50 years.
Over the last decade, under the leadership of chairman Allan Oliver, the club has gone from a local team to one competing at Step 5 of the Football Association's Non-League 'pyramid'.
But bosses say this latest development is the biggest in its history by bringing all age groups under one umbrella.
The new merged club will use the existing Newton Aycliffe FC name and badge.
Both clubs will use the same colours; Newton Aycliffe FC's existing blue for home, with Newton Aycliffe Junior FC's traditional maroon/white becoming the away colours.
Oliver said: "Bringing the juniors on board has been an aim of mine for a number of years and Dan Mellanby has worked hard on our behalf to bring it about.
"Successful non-league clubs have junior teams. We already work closely by providing coaching and matchday experiences for their young players.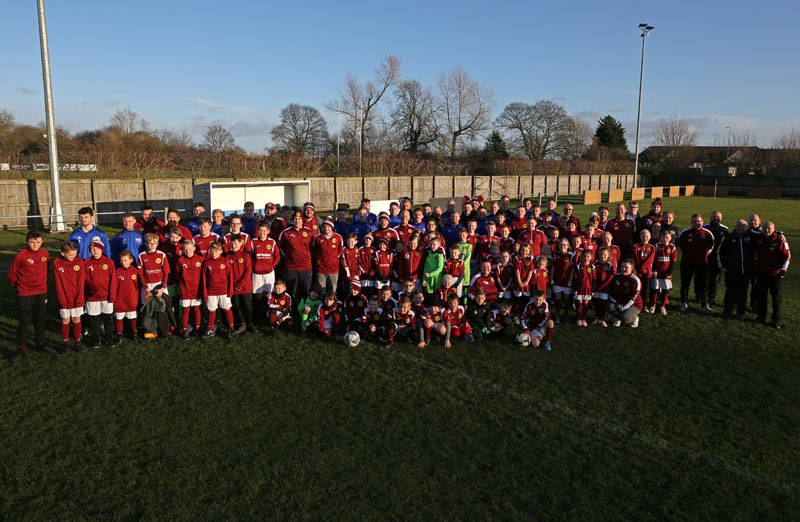 "I have always wanted to develop my hometown club into something that our town can take pride in.
"Producing a winning first team is one part of that but providing a route from junior to senior football is equally important.
"I have been hugely impressed with how Newton Aycliffe Junior FC operates. They have a great group of people to run the club and teams.
"I am absolutely delighted that they are all going to become part of Newton Aycliffe Football Club."
Nige Slatcher, chairman of Newton Aycliffe Junior FC, added: "I am delighted that Newton Aycliffe Junior FC are merging with Newton Aycliffe FC as from the start of the 2020-21 season.
"This has been a long-term aim of mine since becoming the club's chairman and all our club committee members and managers are both excited and fully supportive of the amalgamation between both clubs.
"Newton Aycliffe Junior FC was established in 1997 and was originally based at Newton Aycliffe Sports Club before moving to Woodham Academy.
"The club has many hard-working and dedicated volunteers who ensure the club provide a safe and friendly environment for children of all ages to meet new friends whilst developing their football skills.
"The merger will allow both parties to further build on the positive and collaborative partnership already established whilst now also providing a clear pathway from junior football into the senior game.
"So, for the town's talented footballers of the future, this has to be a big positive for the new single entity and the town of Newton Aycliffe as a whole."